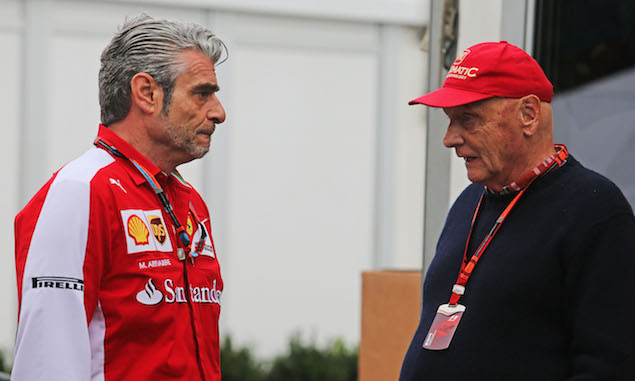 Niki Lauda admits Mercedes will react to the alarm bells following Ferrari's victory in the Malaysian Grand Prix.
Mercedes was beaten on outright pace for the first time since the start of the 2014 season by Sebastian Vettel on Sunday, with the German taking victory from Lewis Hamilton by over eight seconds. Lauda believes Mercedes was beaten by the better team at Sepang but says it will not panic having been so dominant previously.
"It's normal in sport when these things happen and you don't win every race that the bell rings," Lauda said. "The bell will ring loud and we all will hear it and we will react to it, which is normal. But nevertheless we were second and third and we won the last race, so the world is not finished yet after one Vettel victory. But nevertheless they were better."
And Lauda says it's good for Formula One that Vettel secured his first victory for Ferrari, hinting he feels the four-time world champion has been under appreciated in the past.
"I went to [Maurizio] Arrivabene straight away and I congratulated him from my heart. He is competition and the more competition the better, and if Ferrari wins Bernie [Ecclestone] can't complain about boring Vettel because Vettel is not boring anymore. It's very good this result for the total image of F1, because some people are always complaining."
Click here for former Honda engineer Jacky Eeckelaert's Malaysian Grand Prix debrief
Keep up to date with all the F1 news via Facebook and Twitter