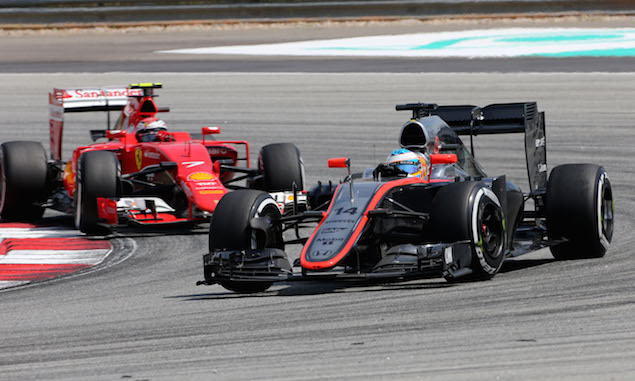 Fernando Alonso prematurely dismissed Ferrari's chances of success during the Malaysian Grand Prix weekend when questioned over his McLaren move.
The Spaniard left Ferrari at the end of last season - before the end of his contract - in order to chase a title with McLaren-Honda. While the return of Honda has been a difficult one so far, Ferrari has started the season encouragingly.
After Sebastian Vettel qualified second on the grid and Alonso 18th in Malaysia, Alonso was asked on Saturday evening about his feelings to be qualifying at the back while the car he had vacated lined up on the front row, but was dismissive of the result.
"I want to be on pole position, not second," Alonso said. "So I think it's a long way to go for us. We start now quite far behind but I have so much trust and confidence in this team. We have such a talented team of engineers inside McLaren and we saw the progress in the last two weeks.
"To beat Mercedes to do something special, not to copy them or to follow them because if not then you will be behind all the time."
In the race, Vettel then went on to outpace the Mercedes to deliver a shock first win for Ferrari since Alonso took victory in the 2013 Spanish Grand Prix.
Click here for former Honda engineer Jacky Eeckelaert's Malaysian Grand Prix debrief
Keep up to date with all the F1 news via Facebook and Twitter