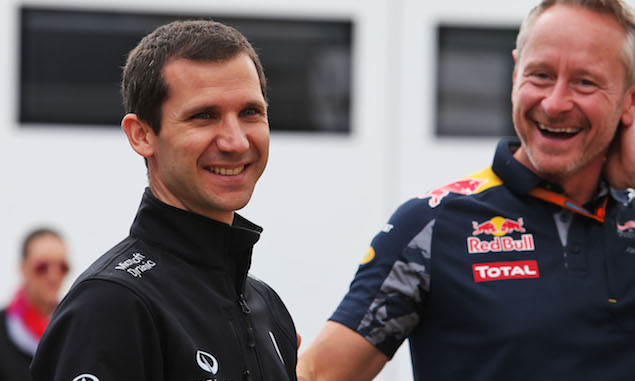 Renault wants to be a match for the best power unit in Formula One by the start of the 2018 season, according to Remi Taffin.
New power unit regulations have seen Mercedes emerge as producing the class-leading engine, winning three consecutive championship double with its works team and only failing to win eight races over the past three seasons. Renault struggled in 2015 but bounced back last year with an improved power unit, securing two wins and one pole position courtesy of Red Bull.
With Renault's investment in F1 increasing after returning as a full constructor last season, engine technical director Taffin says the target is to be a match for any power unit in just over a year's time.
"I don't think we will close the gap this winter, though I I don't know, but the target is to be very close by the end of next year because the target was to be in a position in '18 to fight somehow with these guys," Taffin told Autosport.
"We know more or less where they are and we can see we can get there. It's fair to say that '18 should be the year where we should level everything."
And Taffin says Renault's quest will be aided by power unit performance converging the longer the regulations stay stable.
"It's now a matter of time [until performance converges] because next year is going to be the year in which we see the, not the last step of progress, but the last step that we can actually really see," he said.
"We're not going to bring half a second every single winter and through a season. At some point, performance will be converging because of the nature of the regulations."
Esteban Ocon interview: You're meant to be great when you reach F1
INTERVIEW: Christian Horner on Red Bull rising
TECHNICAL: F1i's review of 2016
Keep up to date with all the F1 news via Facebook and Twitter