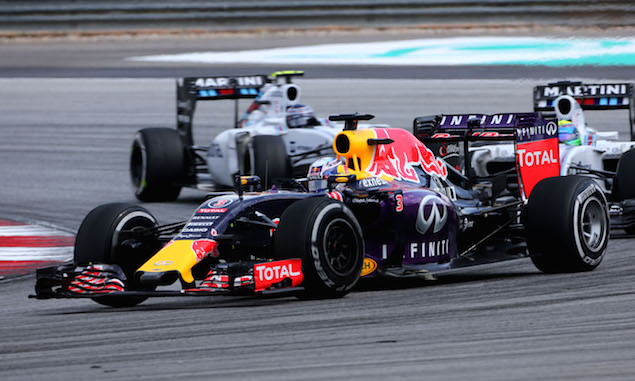 Red Bull has reverted to its 2014-spec brakes for the Chinese Grand Prix after experiencing problems in Malaysia.
Both Daniel Ricciardo and Daniil Kvyat struggled with overheating brakes at Sepang, with the problem hampering the pace of both cars. Looking ahead to what the team has been working on ahead of the race in Shanghai, Ricciardo said the brakes have been changed for last year's Brembo design.
"We have done quite a bit," Ricciardo said. "The main points from Malaysia were we had brake issues, a lot of overheating, so we have reverted back on a few things, even from last year which we knew was more efficient.
"Just because it's from last year it doesn't mean it's not better, so I guess we have taken a step back in that direction, but on top of that we have some aero upgrades, which look promising. The team has done quite a lot to rectify some issues and get us further up the grid."
And Ricciardo is confident of a stronger weekend in Shanghai having noticed clear progress with the Renault power unit since the opening race of the season.
"From Melbourne to Malaysia they made a pretty massive step with drivability and we have a few more software things this weekend, which should give it another pretty significant step on that side. I appreciate what everyone is doing to get us back towards the front, so fingers crossed it can be put together in the right way this weekend and if so we can get back into that top five."
Click here for Chris Medland's Chinese Grand Prix preview. 
Keep up to date with all the F1 news via Facebook and Twitter