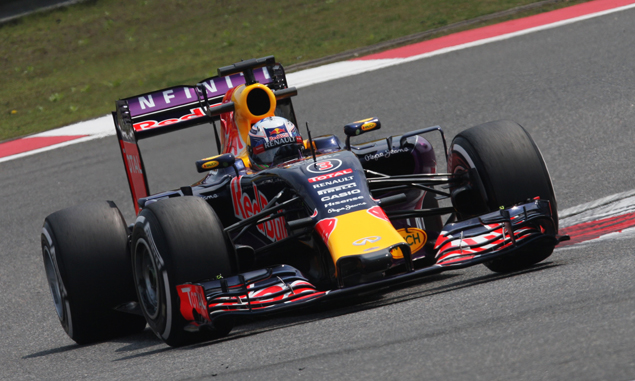 Daniel Ricciardo thinks Red Bull is slightly closing the gap to Ferrari after his RB11 showed renewed vigour in free practice for the Chinese Grand Prix.
The Australian enjoyed a much smoother Friday than during the first two opening rounds and clocked the third fastest time in FP2, one second adrift of Lewis Hamilton's table-topping benchmark.
Following an unimpressive start to their season, Red Bull and engine partner Renault both have new developments in China as the pair endeavours to improve the RB11's overall package.
Ricciardo was especially pleased to notice the combined gains coming from the latest chassis evolutions and recent driveability improvements.
"It was a pretty good Friday," said the three-time grand prix winner. "The first two of the year were pretty troublesome, so it was a better one for us. We got pretty much all the running we needed to do and our pace looks to be closer than during the last couple of races, so a positive day us.
"The car is definitely feeling better. We've had a few updates and you feel the benefits from that, so that's always nice when they bolt new things on the car. Driveability on Renault's side is getting better so it's positive. We obviously still have some more steps to make but at least we're making them in the right direction.
"Hopefully the leaderboard is not lying too much. But we're at least more in the mix than we were in Malaysia I feel, and also in Australia."
Ricciardo hopes these improvements will translate into strong results over the rest of the Shanghai weekend. The 25-year-old also thinks Red Bull appears to have leapfrogged Williams in the pecking order and now has second-placed Ferrari in his sights.
"We look closer, but I still think Mercedes for sure are quicker. Ferrari, as well, is at the moment a small step ahead but I think we've closed a bit that step.
"We seem to be a bit quicker than Williams at this stage. They always seem to come on a bit stronger on Saturday but for now we seem to be the third best team. And we'll try to at least hold that."
In order to challenge the cars in front, Ricciardo is aware that his Renault-powered RB11 will have to fare well on Shanghai International Circuit's long straights.
"We're going to set up a little bit for that and give ourselves a shot for sure. We can't run max downforce, I think that's obvious for us with the power deficit we have.
"So we've got to compromise a bit there, probably with the aero. I think the car is behaving well enough now to handle that. We should be in that window for the race, hopefully not a sitting duck."
Click here for Friday's gallery from the Chinese Grand Prix 
Keep up to date with all the F1 news via Facebook and Twitter