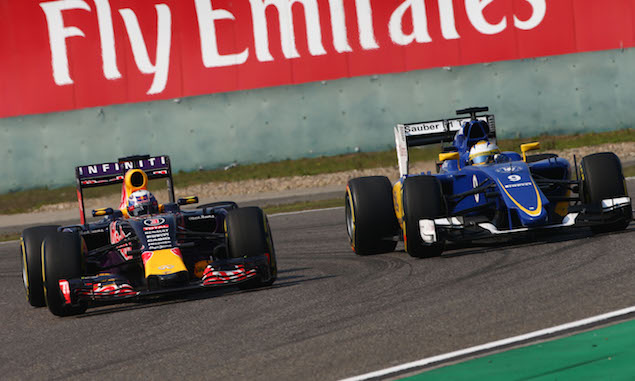 Felipe Nasr and Marcus Ericsson describe it as "a great achievement" for Sauber to score points with both cars in the Chinese Grand Prix.
Having got both cars in to the top ten during qualifying, Sauber converted that in to a double points finish. Ericsson enjoyed a number of exciting battles with Daniel Ricciardo's Red Bull on his way to tenth place, while Nasr's race was a little less eventful as he came home eighth and the Brazilian took satisfaction from getting the most out of the car in Shanghai.
"It was a great day for the team, as both cars scored points," Nasr said. "I am very pleased for everyone. It was not an easy race for us, we were fighting against Lotus and Toro Rosso, and they seemed to have a better pace than us. For myself, I extracted everything I could from the car and also the strategy, so we can be satisfied with this result."
Ericsson was ultimately unsuccessful in trying to hold off Ricciardo and admitted his race pace was not as good as he had hoped, but was still pleased to score.
"First of all, another great achievement for the team," Ericsson said. "Our target was to get both cars into the points, and in the end we managed to achieve that objective. My race was quite tough with a lot of fights all through it.
"I hoped our race pace would have been a bit stronger. I was struggling a bit to get the front tyres to work properly, so I could not maintain the pace the way I wanted to. Nevertheless, there were some great fights out there. I think I had a good race, and I am really happy to have finished in the points."
Click here to look under the skin of the front-running 2015 cars 
Keep up to date with all the F1 news via Facebook and Twitter