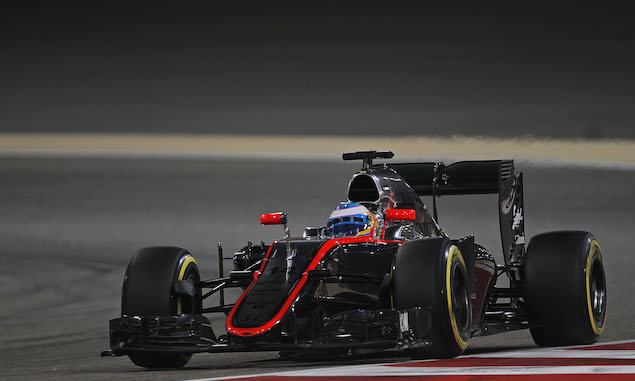 Fernando Alonso says Friday practice for the Bahrain Grand Prix was "definitely a step forward again" for McLaren.
While Jenson Button was struggling for mileage as he stopped on track in both sessions, Alonso was able to end FP2 with the 12th fastest time, 1.5 seconds slower than pace-setter Nico Rosberg. Despite Button's issue, Alonso says his own gap to the front shows further signs of progress for McLaren from the last race in China.
"We need to put many things in place, but all the things we are doing at the moment are putting us in the right direction. Today we were 1.5 seconds to the leaders, so definitely a step forward again.
"Even if we don't have any magic parts in this race, four days from China, little tweaks, downshifts, upshifts, braking performance, things in the background, with hard work from the engineers, is putting some performance on the car, so we have to be very optimistic and happy with today."
Despite his optimism, Alonso was keen to point out the areas McLaren still needs to improve in terms of reliability after Button's issues.
"Today I had a very smooth day without any problems, but unfortunately not the same for Jenson and we lost a bit of info there. We shared an aerodynamic programme and we missed that information, so hopefully we recover tomorrow.
"We're in a period now where we are learning, and we saw today reliability is an issue, and still not 100 per cent sure for us."