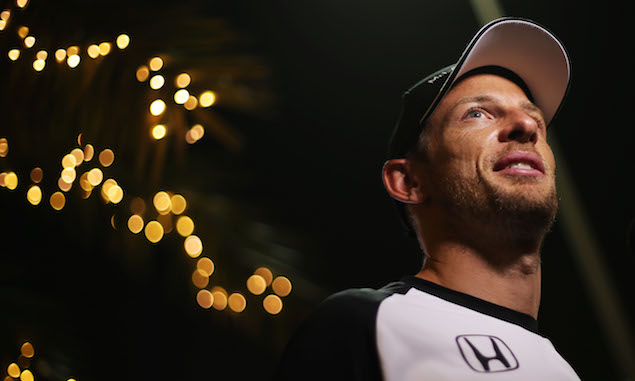 Jenson Button admits a difficult day during Friday practice for the Bahrain Grand Prix has left him facing a tough weekend.
Less then two laps in to the opening practice session, Button suffered a spin at Turn 1 as his car cut out, with the electronic issue causing him to miss the rest of FP1. While Button returned in the evening session - which is the only representative running before qualifying as it took place after sunset - he was again forced to stop after only three laps.
Button did manage to return for some further runs later in the session but says the problems are likely to prove costly this weekend.
"There were a few [issues]," Button said. "I stopped on circuit as a safety precaution for the engine. They got the car back pretty quickly which was good. The guys worked really hard, from P1 to P2 they did a great job, but we still had our problems in P2.
"Then I went out on the soft tyre, I had to come back in, and then I went out on low fuel when everyone else was on high fuel, so it was difficult to get in any running, so not a great day. There was a lot of useful data from the other car, but the frustrating thing is our cars were set up quite differently to get a lot of useful information about parts and what have you, and we weren't able to do that on our car.
"It doesn't help either of us for tomorrow, but hopefully we've resolved the issues I've had."
And Button fears Alonso's encouraging time - which saw him finish P12 in FP2 - will not translate in to an improved performance in qualifying.
Asked if other teams will turn up the power on Saturday, Button said: "Yeah, I think so.
"I think some teams were on high fuel all day today as well, so it's not going to be an easy weekend. But weren't not kidding ourselves. We know what it was like in China where we were 10th in P2, so it's not going to be easy. The long-run pace is okay, but again it's quite similar compared to China.
"Hopefully we don't have any issues so I can get some running in tomorrow to see what the car is doing because when you are thrown in at the deep end here it is quite tricky with braking."
"It wasn't a great day, Hopefully everything's okay for tomorrow and we won't have to change anything else with the car. The trouble is P3 is so hot, it's not really representative for qualifying. It's going to be a tricky qualifying session. I suppose for us at the moment we're going to qualify near the back. In reality it's not such a problem. The race pace is something that is more important."
Click here for Friday's gallery from the Bahrain Grand Prix 
Keep up to date with all the F1 news via Facebook and Twitter