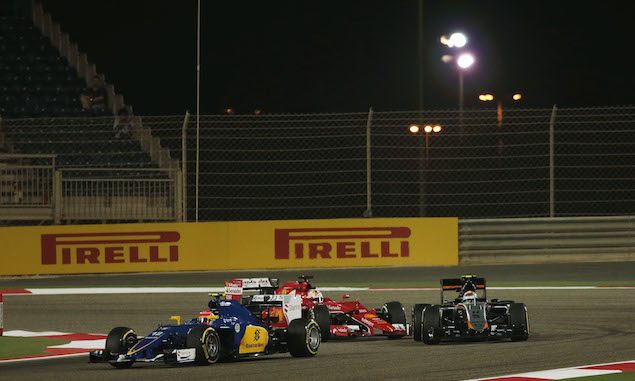 Sebastian Vettel has apologised for causing a collision with Sergio Perez during second practice for the Bahrain Grand Prix.
Perez was attempting to overtake Felipe Nasr's Sauber in to Turn 1 as Vettel was exiting the pits, but the Ferrari clipped the right rear tyre of the Force India at the apex of the corner. Vettel's front wing was damaged in the incident, causing the session to be red flagged to clear the debris, and the two drivers were called to the stewards to explain what had happened.
The stewards decided no further action was warranted as no driver was wholly to blame, but Vettel said a brake issue had been a contributing factor.
"I came out of the garage and had a problem," Vettel said. "I hit the brakes but suddenly there was a blow and I couldn't brake properly. Therefore I hit Sergio Perez in the corner. Of course I'm sorry, but I couldn't do anything else in that moment. I was looking for Sergio to say sorry, but he was still sitting in the car."
And team principal Maurzio Arrivabene verified Vettel's claim that a brake issue had surfaced as he exited the pits.
"We were looking at the telemetry and we saw something wrong with the brakes," Arrivabene said. "This was the reason why we were looking and the guys they took away the carbon fibre shape to understand it better. This is what we learned from the telemetry but they are still looking now."
Click here for Friday's gallery from the Bahrain Grand Prix 
Keep up to date with all the F1 news via Facebook and Twitter