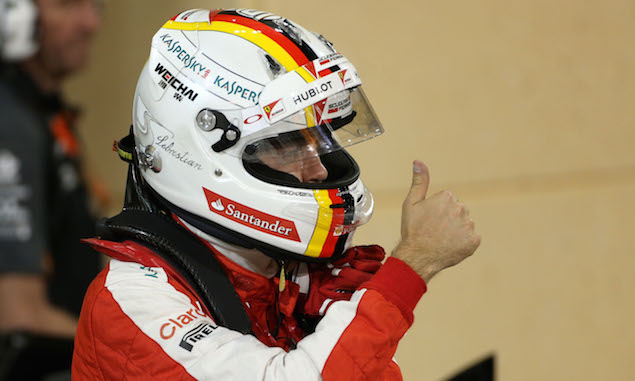 Sebastian Vettel believes he will be able to attack Lewis Hamilton in the Bahrain Grand Prix after qualifying alongside the championship leader.
Hamilton took pole position by 0.4s after an exciting qualifying session, with Vettel able to beat Nico Rosberg to second position as he had in Malaysia when he went on to win. Mercedes has taken pole position at all four races so far this season but Vettel is confident Ferrari will once again prove to be a bigger threat in race trim.
"First of all I'm very happy with second today," Vettel said. "It was a tough session. At the beginning I didn't really find the rhythm that I seemed to have in practice but then towards the end more and more it was getting better, I was feeling happier in the car and I felt more comfortable to push.
"For now I'm very happy with the front row and hopefully tomorrow we can have a good start and then a good race from there. In the race we are maybe a bit closer so we will see what happens."
Later talking about Ferrari's hopes of victory, with Hamilton having already noted the threat from Vettel, the German replied: "Lewis said earlier that we will be difficult to beat and he's right."
And Vettel says he takes great satisfaction from being closer to Mercedes in qualifying trim than ever before this season.
"We are progresing as a team. For this race we didn't bring any updates in particular, so it's really a circuit that is maybe a little better for us. It's also about continuously working with the car, getting on top of what to do with the car, learning and how the changes are reacting on track.
"That's the area where are making most progress at the minute. We are trying to push in all areas, but for now we can be very happy with where we are. Today was the first time we were able to split them through dry conditions in qualifying, so I'm very happy."
Click here for analysis of the development war between Ferrari and Mercedes 
Keep up to date with all the F1 news via Facebook and Twitter