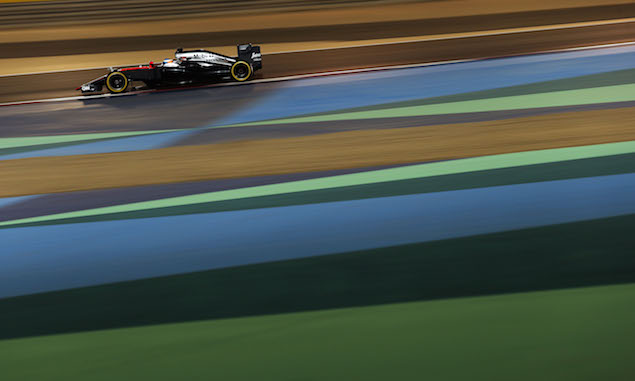 Fernando Alonso admits he is concerned after McLaren "had too many problems" with Jenson Button's car ahead of the Bahrain Grand Prix.
Button had to stop on track on three out of the four sessions on Friday and Saturday, failing to set a time in qualifying. While Alonso took the MP4-30 through to Q2 for the first time, his main focus is on the reliability issues facing the team and he says McLaren can't think about points before sorting those problems.
"We know the performance is not there but we know how to get there, hopefully soon," Alonso said. "But in terms of reliability we had too many problems, still. With Jenson's car this weekend, it's been not so good. So tomorrow, I think we have to try to arrive with both cars at the chequered flag and then whatever position this is, we'll see how the pace is tomorrow. But we need to finish the race.
"The chequered flag will be the first priority because we're not in a position at the moment to dream too much, or dream too high. That's the first thing. It depends. We need to have a little bit of luck if we want to take points. Today, we were the 14th fastest, so it's difficult to believe tomorrow we'll be in the first ten. We need some help from the others but I'm happy with everything."
And Alonso admits he was having "some doubts" about this year's McLaren-Honda after dropping out of Q1 in his first two races of the season. Asked if qualifying 14th in Bahrain was a morale boosting result, Alonso replied: "This is the way it is at the moment.
"Everyone in the team is calm, and focused on what we have to do. It's very easy to panic in this situation when you're down. But it's the opposite. The team is hugely motivated because we know we need each other, we are all united. Hopefully we can do two steps in one, so next one will be Q3.
"It's important. Obviously it's not the dream come true going to Q2, especially for us because we have higher expectations than going to Q2. We needed the result because we knew we were going in the right direction with the car, the performance but always out of Q1 makes some doubts."
Click here for analysis of the development war between Ferrari and Mercedes 
Keep up to date with all the F1 news via Facebook and Twitter