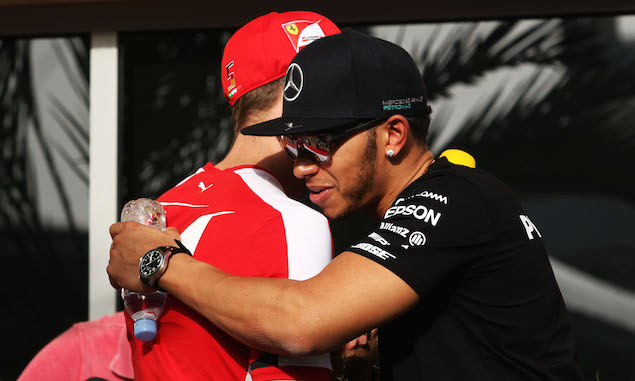 Lewis Hamilton says he is looking forward to fighting Sebastian Vettel on track this season, but would only get a true picture of the four-time world champion in the same car.
Vettel won four consecutive championships with Red Bull from 2010-2013, with Hamilton often speaking about his desire to be able to race the German on track in similar machinery. This season looks set to offer a number of opportunities for Ferrari to challenge Mercedes and Hamilton says it is a fight he is looking forward to but would enjoy it most in the same car.
"I'm looking forward to being able to have a fight on track with him, as well as other drivers," Hamilton said. "I think ultimately you never have a true race unless you drive the same car, because there's always going to be differences between the cars.
"We might have slightly more power and they might be slightly better on the brakes, and then we might be slightly better here … I remember the days between McLaren and Ferrari; they had a slightly longer wheelbase, their car was better after looking after the rear tyres, theirs was more an understeering car whereas ours was an oversteering car, they were better on the longer, medium to high speed circuits and we were better on the medium to low speed circuits.
"It kind of balances out over the year but naturally if you're fighting a team-mate it's a real battle because you've both got the same materials. I think the cars are getting closer and closer matched, so I'm looking forward to having that battle with not only Nico [Rosberg] but now Kimi [Raikkonen] and Vettel."
Hamilton will start from pole position ahead of Vettel in today's Bahrain Grand Prix, and has been linked with a move to Ferrari if Raikkonen is not retained as his contract negotiations run on at Mercedes.
Click here for analysis of the development war between Ferrari and Mercedes 
Keep up to date with all the F1 news via Facebook and Twitter