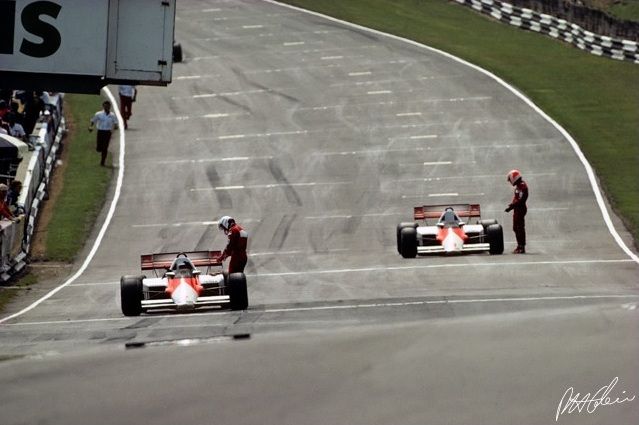 Alain Prost follows Niki Lauda by just two days on the February birthday calendar, the four-time world champion turning 66 today.
So on this day of recognition for 'The Professor', as Prost was aptly called during his career in F1 career, we've fittingly put the two men together in this extraordinary shot from our good friend Paul-Henri Cahier.
It's the result of an unusual set of circumstances that took place at the British Grand Prix held at Brands Hatch in 1984.
Jonathan Palmer had crashed his RAM on the 12th lap of the race, which was subsequently red-flagged.  The McLaren boys were way in the lead at that point. Prost and Lauda came to the start-finish line, stopped and got out of their car before any other driver had arrived!
Meanwhile, as he crossed the track, Paul-Henri caught the scene from the corner of his eye. He aimed his Canon 500 mm lens, and shot the very last Kodachrome frame on his roll of film!
The perfect blend of supremacy and artistry. What a beauty!
And Happy Birthday Alain!