For rookie drivers, their first year in F1 can be an eye-opening experience. Some take to it like they've been racing at the top for their whole lives, while others sometimes struggle to recreate the form which marked them out in junior categories.
Carlos Sainz has faced a baptism of fire going up against Max Verstappen, with his team-mate tending to be the focus due to his age and impressive performances after just one year of racing in F3 since stepping up from karts. Regardless of how many years they have been racing in other series, Sainz says all drivers making their F1 debuts are entering in to a world unlike anything else.
"Before F1 you build the basics, and once you get in to F1 you discover a whole new person in yourself," Sainz tells F1i. "Because you go through so many different situations, through so many different mental states, so many different circumstances that you've never been before that you then learn how your body reacts, how you feel. So much travelling, so much media, so many energy-consuming things through the year, you learn about these kinds of things whereas before you never knew it could happen."
While learning on the job, one would think Sainz would have a similarly long list of surprises which he has faced in his first F1 season. But after a long pause to look back over his season, he can only come up with two aspects of the year which have caught him out.
"The only thing I was a bit surprised with - which I am pleased with - is my pace in the wet. The two or three times it has been wet we have been really, really quick. Obviously the car helps, I feel really confident with the car but also I think I performed better than expected maybe. I didn't know how good the Formula One drivers were going to be in the wet and I felt really in to it since Austria, which I think was my first run in the wet.
"Actually I'm also surprised how difficult it is to put a full weekend together from the start to the finish without anything happening. I don't know if it's just a rookie year that most things happen but I find it really difficult to put the whole weekend together."
The difficulties in executing a clean weekend have resulted in a number of DNFs for Sainz, leaving him with just 18 points from the 17 rounds so far. On a number of occasions the Spaniard has seen points slip away due to reliability issues, being forced to retire from four consecutive races in the middle of the season.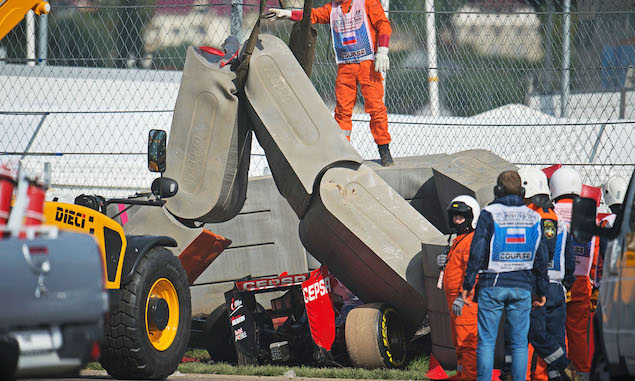 The tide seemed to have turned before the Russian Grand Prix, where Sainz crashed heavily in FP3 and was hospitalised but returned to race on Sunday and was set to score good points before a brake failure forced his retirement once again.
"I think I am in one of my unluckiest years of my career, especially regarding the reliability, I feel that everything that could happen has happened. Sochi was a difficult one to take after such a recovery and knowing afterwards that we could have finished P5. To get the brake failure was complicated.
"There was a time in the middle of the year where I did five consecutive races where I was running in the points but didn't finish in them. So it's been a difficult one to take but in the end thanks to the speed and some good races the feeling towards me is positive still. Maybe with a normal year with so many retirements probably I would not even have been watched so there are still positives to take out of it."
And Sainz feels he resilience he showed in fighting back through the field in Russia after his accident is one such positive to focus on as the season draws to a close.
"I think so. Especially the first half of the year was very good in terms for qualifying performance, in terms of speed but I never could really show my race skills, probably because we were always qualifying a bit in front of our race position. So maybe I was giving the feeling that I was going backwards in the race or wasn't putting enough effort in the race, I don't know. But in the end thanks to these last two crashes - OK they were not positive, for sure, to crash - but it has maybe been something good because I have been able to show I can also come from the back and recover and do some good manoeuvres and good race craft."
Despite the reliability issues which have left him trailing team-mate Verstappen by 29 points, Sainz says Toro Rosso and Red Bull have not allowed the final results cloud his performances.
"The team is fully aware of this, they know more than anyone what has happened to me this year. Red Bull knows it more than anyone too, and they have already also calculated the points that I could have without all these failures and they are very happy with it. I think a lot of people would be surprised to know my points score without these failures and without all these retirements!
"A lot more for sure! Three times or four times more than what I have now … I don't really care if it puts me ahead or behind Max, I just know it's much better for me, for sure."
Speaking of his team-mate, Sainz is happy with the way he has been able to match up to Verstappen and how both drivers have handled themselves as two young rookies in such a high-stakes environment.
"I think with everything that could have happened this year it has been a very good year for both Max and myself. The relationship has been pretty much good through the whole year with the amount of pressure we are under. This year with the amount of pressure we have been under it would have been very simple to lose our nerves and be a bit different to each other or a bit strange.
"I think we've both managed really well, we've both performed to a high level without any big things going on between him and myself and we both managed to show our potential. So I think it has been a positive year for STR and for both of us."
However, despite his reliability misfortune, Sainz is wary of the gap in points to Verstappen and wants to use his second season in F1 to show he has the all-round ability which would make him worthy of a seat at a top team.
"I want to prove I am consistent throughout the whole year by scoring points more regularly if reliability allows me. And I just want to become a driver which big teams can look at and say 'if we put him in our team he will score a lot of points for us'. Also I would like to keep showing some good performances in terms of overtaking and all that and the rest will come with more experience."