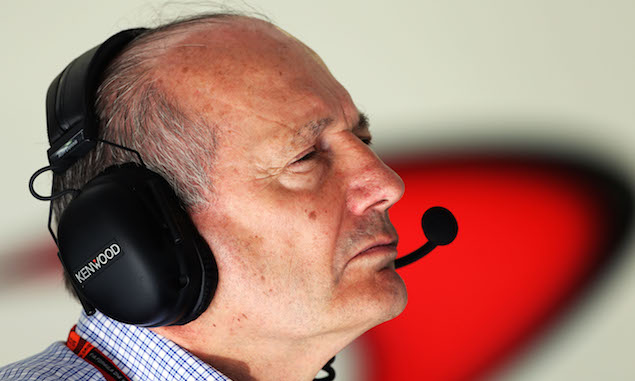 Ron Dennis says he is "excited and optimistic" about McLaren's future having seen progress at every race so far this season.
McLaren started the year comfortably off the pace in Australia and has only managed to take the start with both cars at two of the four races. However, with Fernando Alonso coming close to scoring points at the last race in Bahrain, Dennis says the rate at which McLaren has improved has been the most important aspect since the start of the season.
"We knew this season would be tough, but we're making progress with every Grand Prix," Dennis told the official Formula One website. "In Australia we were a long way off the pace, but we managed to get one car to the finish. In Malaysia we made a significant step in terms of lap-time deficit to our principal rivals, but our reliability wasn't there yet.
"In China we continued to make improvements in terms of pace, and for the first time we managed to get both our cars to the finish. In Bahrain we had reliability problems with Jenson's [Button] car, but Fernando's [Alonso] car ran like clockwork all weekend, made it through to Q2 in qualifying, and nearly scored a point in the race.
"Clearly, results like those aren't what we're looking for, but, equally clearly, it's plain to see that development is going in the right direction. I'm not saying that development will always be linear - on the contrary we'll sometimes see positive performance spikes and we'll sometimes see less positive performance dips as our season ebbs and flows - but the overall shape of our performance curve will be upward.
"And that's no accident. It's the result of a huge amount of diligent work by a large number of experienced and expert operatives in both the UK and Japan, and a great deal of careful planning by myself, by Jonathan (Neale) by Eric (Boullier) and of course by Honda's Yasuhisa Arai-san and his team. We've hired some great new engineering talents too, who are blending very well with our longer-established engineers here in Woking and the results are clear to see. I'm excited and optimistic."
Click here for a look at the radical Honda power unit design
Keep up to date with all the F1 news via Facebook and Twitter