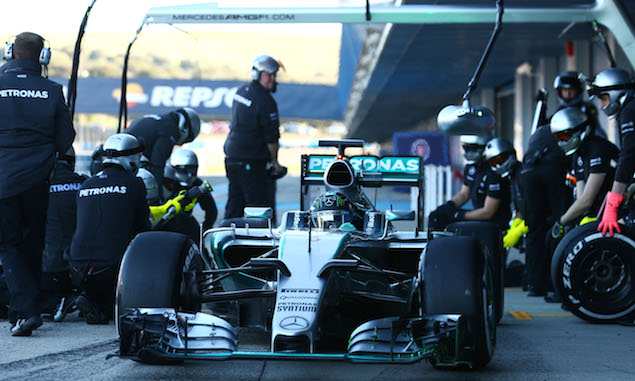 Toto Wolff admits he is delighted with the start to Mercedes' pre-season testing program, describing it as the "best" first day.
Nico Rosberg completed over 150 laps in the new W06 as Mercedes managed more than double the amount of mileage than any other team. With such smooth running on the opening day at Jerez, team boss Wolff conceded that he couldn't have foreseen it going so well.
"I don't want to sound overconfident, we need to stay humble, [but] it was a really good first day," Wolff said. "For me it was the best one that I've seen in terms of mileage and reliability. Of course we didn't push the limits in terms of the car and its systems but for a first day indeed it was very solid.
"If you speak to Nico he says it's one of the best first days he's had. Does it mean a lot? No, but it's better to have a good first day than a bad one."
Rosberg himself said his lap count was aided by having a car which handled well from the start of the day,
"I can just say that I have a good feeling," Rosberg said. "There's no reason for it, there's no numbers for it today, it's just feeling and I can just say I have a good feeling. It's been a reliable day, no major problems, the car balance feels more or less decent. Of course it's not perfect so there's still some work to do and I look forward to that work, starting tonight to try and improve the car already for tomorrow and then optimise it further for my second day. So just a good feeling."
Click here for the full gallery of the first day of testing at Jerez
Keep up to date with all the F1 news via Facebook and Twitter