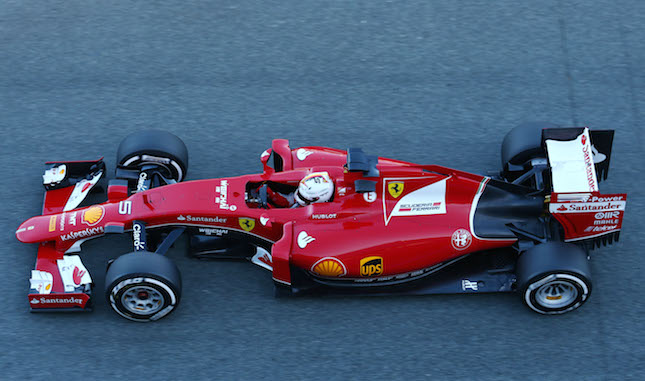 Ferrari's Sebastian Vettel felt "reasonably happy" after the four-time world champion was fastest on the opening day of winter testing at Jerez.
While Nico Rosberg enjoyed a productive day, clocking over 150 laps for Mercedes, Vettel went fastest in the afternoon session to set the pace for his new team. Despite the headline time, Vettel said he was particularly pleased to have racked up some useful mileage after he had a rather quiet morning session that saw him complete only 9 laps.
"This was our first proper day … so in the end we can be happy that we did a decent amount of laps," Vettel said. "We did have some problems with telemetry but that's why, especially with the new car, you come back in, you check, you take it apart, etc. These things take time. It would have been nice to do more [running] but overall … the first impression was quite good. For day one, we can be reasonably happy."
However, Vettel refused to read too much into his performance and insists Mercedes remains the odds-on favourites entering the new season.
"I think that lap times are not very important. In the end, it's the amount of laps. Surely, it's better to be closer to the front rather than a long way behind.
"The reference is still Mercedes. They did 200 laps or so today! So they start off with a very reliable car. Hopefully not as quick as last year, that is what everybody is hoping for!"
Still in his red Ferrari overalls, Vettel said he was settling well to his new environment and is confident the Scuderia has all the ingredients it needs to succeed again.
"I think the potential is huge. Obviously there's a lot to do. This is a big time of change, with a lot of people coming, a lot of people leaving, people getting promoted, etc. I am quite happy where I am."
Click here for the full gallery of the first day of testing at Jerez
Keep up to date with all the F1 news via Facebook and Twitter