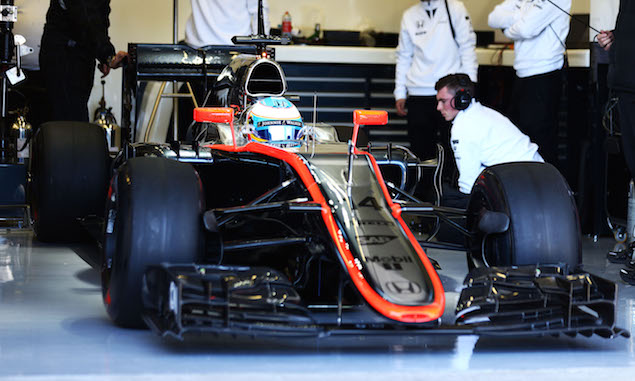 Fernando Alonso insists he isn't surprised McLaren had such a difficult first day of testing its 2015 car at Jerez.
The MP4-30 carries the new Honda power unit, with the team having switched from Mercedes to reunite with the engine supplier it enjoyed huge success with in the late 1980s and early 1990s. Alonso completed just six laps on the opening day of the first pre-season test as Honda encountered electrical issues, but he said the lack of mileage didn't concern him.
"I think it went more or less as we expected," Alonso said. "Obviously it's a slow start as we knew, we saw last year how difficult it was for all the teams to complete laps, especially in the first couple of days. Even Red Bull was completing 10 laps all winter or something like that. So it's definitely complex technology that we have in the Formula One cars today."
And Alonso said he is excited about the potential of the new car, describing it as a "quite aggressive" design.
"We need time. We have to learn a lot of things in the car because we start putting mileage [on it]. Also I think the car design is quite extreme, quite aggressive and quite innovative so definitely we have something to discover there, slowly. I would like to do more laps, that's for sure, because after the long wait - two months waiting for the first day of testing - six laps is not enough.
"But I think we are all happy [and] all excited. Inside the garage we had an amazing atmosphere today doing the first lap especially. The comeback of McLaren-Honda after 22 years, I felt so privileged and so honoured to be the man in the car to do the first lap today. I think a lot of things to work on, but I believe so much in the project, I'm so, so happy to be sitting here. A lot of things to do but with a positive approach."
Click here for the full gallery of the first day of testing at Jerez
Keep up to date with all the F1 news via Facebook and Twitter