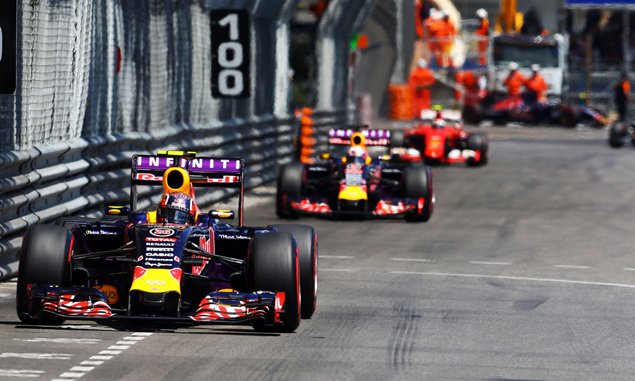 Renault Sport F1 managing director Cyril Abiteboul thinks last weekend's Monaco Grand Prix proved the French constructor's "resilience", as Red Bull duo Daniil Kvyat and Daniel Ricciardo finished fourth and fifth respectively.
The Viry-based power unit manufacturer experienced a tough start to its 2015 campaign, after its two supplied teams struggled with a raft of driveability and reliability issues.
With both Red Bull drivers already on their fourth ICE (out of the allocated four), the Austrian squad feared taking engine penalties at Monte Carlo, a place where grid position is vital.
But Ricciardo and Kvyat qualified a strong P4 and P5 on Saturday before delivering a steady race performance in their Renault-powered RB11s to secure the teams's strongest points haul in 2015.
"The result [in Monaco], fourth and fifth, very close to the podium, demonstrates the resilience of everyone at Viry," said Abiteboul. "We started the season on the back foot and it has been an enormous task to keep motivated under fire.
"Every person has contributed to regaining our reliability, and performance is getting better each race. Now we need to keep fighting, and looking forward. We know we can do this, so we will keep our heads down and chipping away until we are where we want."
Director of operations Rémi Taffin shares Abiteboul's sentiment of accomplishment but equally agrees that Renault must not drop the ball and keep improving to catch the current frontrunners.
"We arrived in Monaco focused on one thing; delivering consistent and reliable performance, said Taffin. "We leave knowing we achieved this aim. It's a step forward and follows our expected development curve.
"With another box ticked, we need to keep to this plan in the coming races. We know it will be hard, there's no doubt about it, but this result confirms we are on track and going in the right direction. We will not give up until we are back to where we need to be."
Click here for a look at some of the best quotes from the Monaco Grand Prix weekend
Keep up to date with all the F1 news via Facebook and Twitter