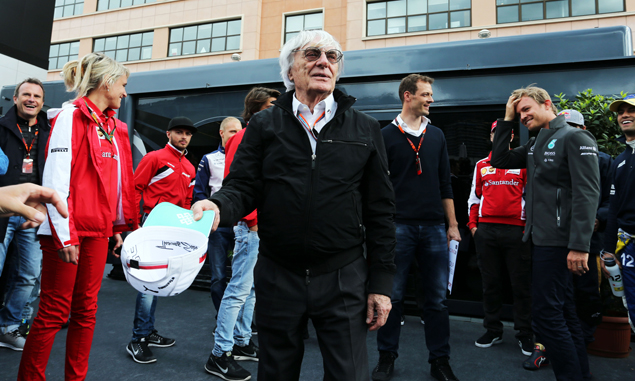 Bernie Ecclestone labels Mercedes' Nico Rosberg and Ferrari's Sebastian Vettel "not so good for my business", while team bosses Toto Wolff and Maurizio Arrivabene also receives some criticism from the F1 supremo.
However, the commercial rights holder is a self-proclaimed admirer of reigning world champion Lewis Hamilton, whose glitzy off-track lifestyle rarely goes unnoticed and generates the sort of buzz Ecclestone deems vital for the sport.
"I still believe that Lewis is the best champion that we have had in a long, long time," he said in a joint interview with Rosberg to the sport's official website.
"He manages to get to all different walks of life: red carpet, fashion business, and music – you name it.
"Nico is not seeking the limelight as Lewis does. Lewis wants to be famous.
"I am a huge Lewis fan because he is a super promoter of the sport. From a pure business aspect – sorry Nico if I have to say this – you are not so good for my business."
Ecclestone then goes on detailing why Germany no longer is an F1 stronghold, and believes Rosberg and fellow countryman Sebastian Vettel could be better ambassadors.
"Unfortunately [Nico doesn't] have the German fans on [his] side. As the cancellation of the German Grand Prix indicates, Germany is a terrible market for Formula One.
"On the contrary Lewis is a hero in the UK. The British love Formula One. Sebastian [Vettel] is also not doing much for F1. People hardly recognise him on the street."
The 84-year-old also took shots at the defending champions' motorsport boss.
"The team principals should be more prominent. Take away Toto Wolff's Mercedes shirt and send him down a street: nobody would recognise him."
Asked whether Ferrari's Maurizio Arrivabene, who has quickly become a fan favourite with his wit and repartee, fitted the bill, Ecclestone was still reluctant to give his full approval.
"[He is quite a character] but only for himself and not for Formula One."
Click here for a more light-hearted take on the Monaco Grand Prix. 
Keep up to date with all the F1 news via Facebook and Twitter