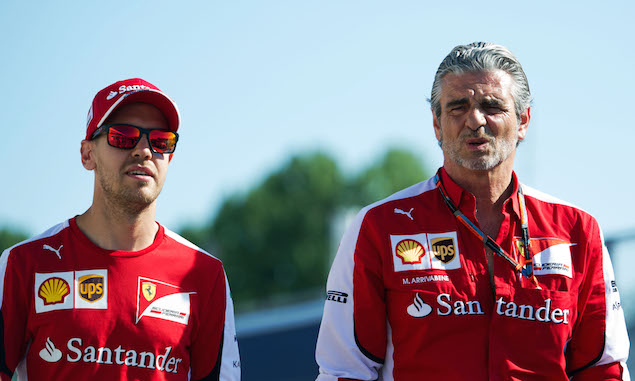 Sebastian Vettel has described the challenge Ferrari faces to try and catch Mercedes this season as "huge".
While Lewis Hamilton dominated the season-opening Australian Grand Prix, Vettel's win in Malaysia a fortnight later ignited hopes of a championship battle between the two teams. While Vettel has only failed to finish on the podium once this season - in Bahrain where Kimi Raikkonen threatened to win - Mercedes has had the measure of Ferrari since Vettel's win and he admits it will be tough to completely erase the gap.
"In general we are here to fight," Vettel said. "It is clear that we always want to get the maximum but you have to see that Mercedes is still the strongest team and the challenge to catch them is huge. We are trying to make everything possible and trying to close the gap. Hopefully we can be a little bit closer this weekend."
And Vettel says Ferrari will need to be flexible in terms of its strategy options to make sure it maximises its opportunities in Sunday's Canadian Grand Prix.
"Strategy can be quite important here, if you look at the last couple of years, so I think we need to start on the right foot and get into the rhythm and it is very important and similar to Monaco, you use a lot of kerbs, it is important to hit the brakes at the right time, turning in at the right time.
"It is a circuit where timing is pretty crucial. Hopefully we will have that right from the start and have a good weekend."
Click here for technical analysis of the braking challenge at the Canadian Grand Prix
Keep up to date with all the F1 news via Facebook and Twitter