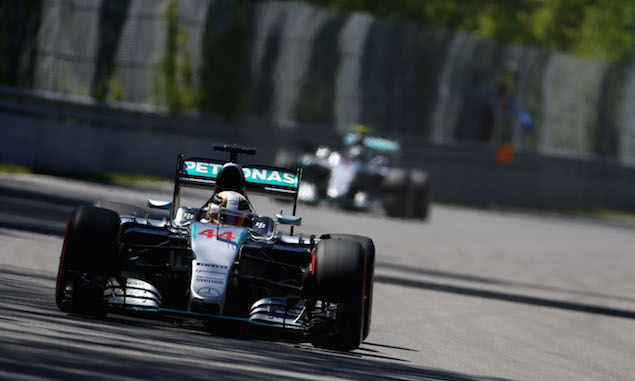 Lewis Hamilton took pole position for the Canadian Grand Prix as Sebastian Vettel failed to make it out of Q1.
An electronics issue for Vettel leaves him down in 15th place on the grid, and removed one threat to Mercedes in the final part of qualifying. Kimi Raikkonen remained the closest challenger but it will be an all-Mercedes front row as Hamilton's time of 1:14.393 beat team-mate Nico Rosberg by 0.3s.
Raikkonen ended a similar margin behind Rosberg in third place as he was one of the few drivers to improve on their final run in Q3, with both Mercedes' failing to better their opening efforts in an anticlimactic finish. Valtteri Bottas joins his fellow Finn on the second row after a strong performance for Williams, finishing the session less than 0.1s behind Raikkonen.
While both Raikkonen and Bottas enjoyed clean sessions, their respective team-mates dropped out in the first part of qualifying, with Felipe Massa set to start alongside Vettel having complained of a loss of power.
Lotus enjoyed its best qualifying performance of the season with Romain Grosjean and Pastor Maldonado locking out the third row despite racing each other out of the pit lane at the start of their final laps. Both cars were released at the same time, with a Lotus mechanic coming perilously close to being hit.
Nico Hulkenberg took seventh place ahead of Daniil Kvyat and Daniel Ricciardo, while Sergio Perez will start from tenth as the Mercedes power unit displayed its strength at the Circuit Gilles Villeneuve.
Kvyat needed a late lap to get out of Q2, knocking out Carlos Sainz right at the end of the session as both Toro Rossos dropped out in 11th and 12th respectively. With Max Verstappen 12th but receiving a grid penalty of 15 places, the unused positions will be converted into a 10 second time penalty in tomorrow's race.
Marcus Ericsson is the first driver to benefit from Verstappen's demotion having dropped out in 13th place, just 0.014s ahead of Fernando Alonso. Felipe Nasr was the slowest driver in the second part of qualifying after missing out on running in FP3 due to a bizarre crash when trying to warm his tyres.
Q1 saw a number of big casualties as Vettel failed to make it through, with an electronics issue preventing him from setting a quick enough time despite two late laps on the supersoft tyre. Vettel did manage to beat Felipe Massa, with the Williams driver surprising dropping out
The two Manors were predictably in the bottom five, while Jenson Button didn't run at all as an ERS-related issue saw him ruled out of qualifying having stopped on track towards the end of FP3.
Click here for Saturday's gallery from the Canadian Grand Prix
Keep up to date with all the F1 news via Facebook and Twitter
| Pos | Driver | Team | Q1 | Q2 | Q3 |
| --- | --- | --- | --- | --- | --- |
| 01 | Lewis Hamilton | Mercedes | 1:15.895 | 1:14.661 | 1:14.393 |
| 02 | Nico Rosberg | Mercedes | 1:15.893 | 1:14.673 | 1:14.702 |
| 03 | Kimi Raikkonen | Ferrari | 1:16.259 | 1:15.348 | 1:15.014 |
| 04 | Valtteri Bottas | Williams | 1:16.552 | 1:15.506 | 1:15.102 |
| 05 | Romain Grosjean | Lotus | 1:15.833 | 1:15.187 | 1:15.194 |
| 06 | Pastor Maldonado | Lotus | 1:16.098 | 1:15.622 | 1:15.329 |
| 07 | Nico Hulkenberg | Force India | 1:16.186 | 1:15.706 | 1:15.614 |
| 08 | Daniil Kvyat | Red Bull | 1:16.415 | 1:15.891 | 1:16.079 |
| 09 | Daniel Ricciardo | Red Bull | 1:16.410 | 1:16.006 | 1:16.114 |
| 10 | Sergio Perez | Force India | 1:16.827 | 1:15.974 | 1:16.338 |
| 11 | Carlos Sainz | Toro Rosso | 1:16.611 | 1:16.042 | |
| 12 | Max Verstappen | Toro Rosso | 1:16.361 | 1:16.245 | |
| 13 | Marcus Ericsson | Sauber | 1:16.796 | 1:16.262 | |
| 14 | Fernando Alonso | McLaren | 1:17.012 | 1:16.276 | |
| 15 | Felipe Nasr | Sauber | 1:16.968 | 1:16.620 | |
| 16 | Sebastian Vettel | Ferrari | 1:17.344 | | |
| 17 | Felipe Massa | Williams | 1:17.886 | | |
| 18 | Roberto Merhi | Manor | 1:19.133 | | |
| 19 | Will Stevens | Manor | 1:19.157 | | |
| 20 | Jenson Button | McLaren | | | |