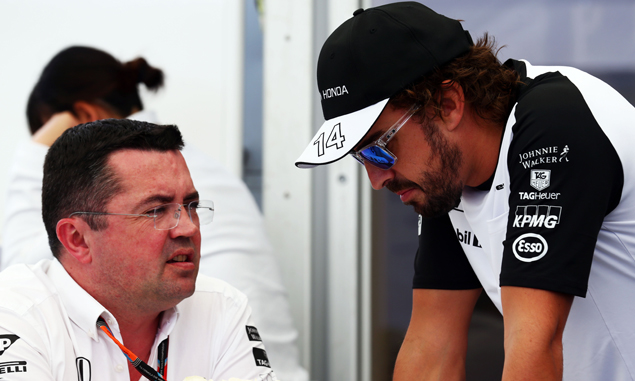 McLaren-Honda racing director Eric is adamant Fernando Alonso remains "happy with the team" despite venting his frustration for "looking like an amateur driver" during last Sunday's Canadian Grand Prix.
The Woking-based outfit experienced another dismal race weekend in Montreal, as both Alonso and team-mate Jenson Button suffered a raft of reliability issues and lacked outright pace on their Honda-powered MP4-30.
The situation was all the more difficult considering the Japanese manufacturer had spent its first two engine development tokens in an effort to improve its turbocharged power unit in the lead up to the event.
Although Boullier is confident Alonso still believes in the McLaren-Honda project, the Frenchman is equally aware that the clock is ticking.
"If we're still performing like this next year, of course, Fernando is going to turn mad," Boullier told reporters in the Montreal paddock. But I don't think he will.
"You guys see him regularly, he's happy with the team, he's happy where he is now. He wants to win, he wants to race, he wants to compete, and we have the same agenda anyway.
"He told me the other day that he was considering this year as a test year just to be ready next year. He does not put himself to a corner or a situation where he would feel frustrated."
Mindful of Honda's struggles with Formula One's current hybrid power unit technology, Boullier also says McLaren has extended its hand and offered more resources to its engine supplier.
"As a partner we also have to be supportive. Part of [the issues] are not in our hands directly but we have actually already offered support to help them to accelerate this recovery time.
"In terms of timing, when you want to catch up you basically have to put more resources on the programme.
"If you want to do it short-term you need to bring more experienced resources. We have some software, IT, whatever it is on our own domain, we have this experience at home. So McLaren can actually offer Honda support in this domain to allow them shift resources on other areas."
Click here for the latest photos from the Canadian Grand Prix
Keep up to date with all the F1 news via Facebook and Twitter