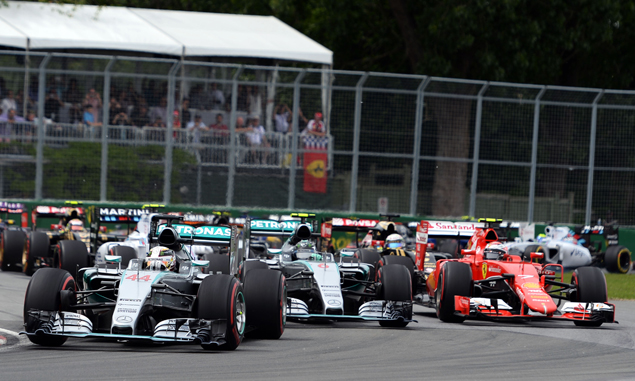 Canadian Grand Prix winner Lewis Hamilton believes Ferrari remains a realistic threat to Mercedes despite outracing the lead SF15-T of Kimi Raikkonen by some 45s at Montreal last weekend.
Ferrari brought a significant power unit evolution to Canada, having spent its first two development tokens in an effort to reel in the championship leaders.
While free practice pace suggested both Raikkonen and team-mate Sebastian Vettel might race the Mercedes duo, the Italian squad finished outside of the top three for the first time this season. However, reigning world champion Hamilton thinks outside factors masked Ferrari's genuine potential at Circuit Gilles Villeneuve.
"Kimi spun so we didn't really get to see his true pace in the race," said the Briton.
"Maybe at the beginning of the race he wasn't with us and also Sebastian wasn't there and obviously Sebastian has generally been the quicker of the two so far this season.
"So we didn't really get to see Ferrari's true pace this weekend, I think, and in the next race we will."
Hamilton's comments echo Ferrari boss Maurizio Arrivabene's sentiment that race circumstances – especially Vettel's low starting position following an early Q1 exit and grid penalty – denied the upgraded power unit a chance to shine at Montreal.
Click here for the best quotes from last weekend's Canadian Grand Prix
Keep up to date with all the F1 news via Facebook and Twitter