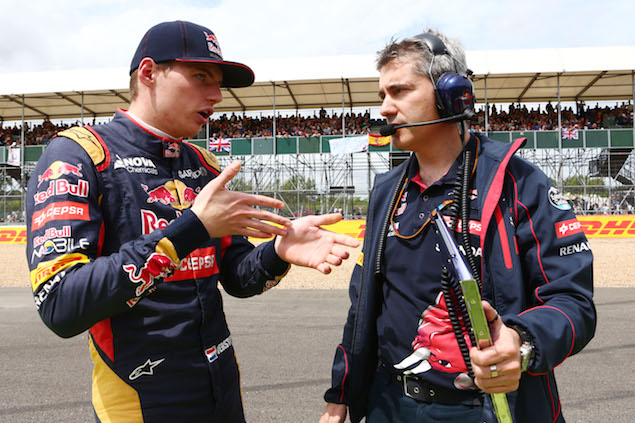 Max Verstappen described his high speed crash in the British Grand Prix as "very strange" after the Toro Rosso rookie failed to finish.
Following a safety car restart early in the race, Verstappen lost the rear of his car at Turn 2 and was unable to catch it as it snapped away from him. The car slid through the gravel at high speed before Verstappen made light contact with the barrier, but he says he does not believe cold tyres were to blame for the incident.
"It was a very short race," Verstappen said. "A very bad start, we had a lot of wheelspin. I think I was the only one on the hard tyre and in front of me a lot of crashes happened so I was lucky to escape from that.
"Then after the safety car restart, I don't know what happened in Turn 2. I was flat out on full throttle and suddenly I just lost the rear. I touched the guardrail very softly so there was a bit of damage, then I was in reverse but it wasn't reversing. Shame but we can't change it. We will focus on the next race.
"It was very strange. The tyres weren't cold, and I was flat out in turn two and it just went left-right! Very quickly, and I couldn't control it. I slightly touched the barrier and I engaged reverse, but it was not working, which is a shame. After such a spin, you are far behind."
With Toro Rosso looking strong on Friday but ending the weekend off the pace and with two retirements, Verstappen wants the team to look in to the reasons for the lack of competitiveness.
"We have to check everything. I keep my head up, these things happen. We will see what happens in Budapest.
"It was a strange thing. The rear tyres were very warm and the front tyres were good, I was back on full throttle and the rear snapped away. A bit the same as the problems yesterday, it was full brakes on and tried to avoid a crash. I slightly touched the barrier and I tried to engage reverse but it didn't work. Not my weekend this time."
Click here for Sunday's galleries from the British Grand Prix
Keep up to date with all the F1 news via Facebook and Twitter