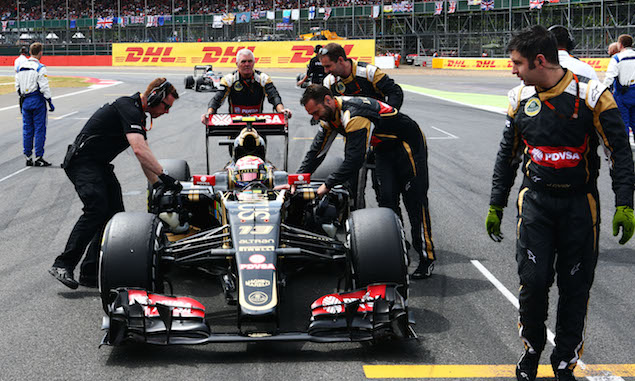 Pastor Maldonado says it is important Lotus sorts out its qualifying performances to be able to avoid the risks associated with starting further down the grid.
Both Maldonado and team-mate Romain Grosjean retired from the British Grand Prix on the opening lap of the race after colliding with each other as a knock-on effect from Daniel Ricciardo's manoeuvre. Maldonado started the race from 14th place - two spots lower than Grosjean - and he says Lotus needs both cars in the top ten in Hungary to avoid incidents.
"We've been quite good, I think maybe Silverstone is the worst of the year for our car, especially in qualifying," Maldonado told F1i. "We've been adapting our car quite well to all the conditions and all the tracks, so I hope to recover what we lost there and to be in the top eight in qualifying. That is very important, you see what happens when we start from lower down, there is more risk.
"Many times nothing happens, but you are risking more. So we need try to be in the top eight and then we can do good races."
Maldonado himself had scored back-to-back top ten finishes before his retirement at Silverstone, and he believes new parts for Lotus will ensure it remains capable of challenging at every race.
"Upgrades are coming, so hopefully we can have them as soon as possible and make a big jump."
Click here for an exclusive Q&A with Red Bull's Adrian Newey
Keep up to date with all the F1 news via Facebook and Twitter