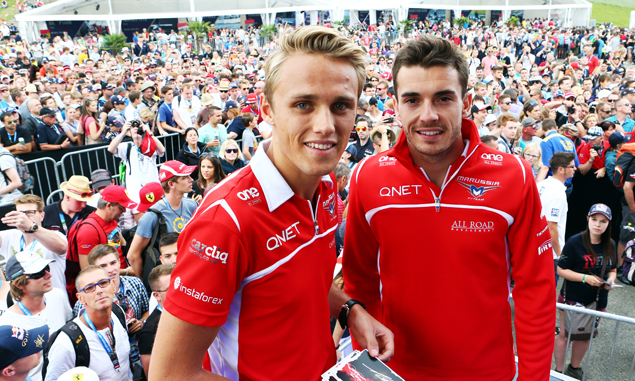 Carlin Indy Lights racer Max Chilton has dedicated his maiden series pole position and win to former Marussia F1 team-mate Jules Bianchi.
The Frenchman died on Friday night from the heavy head injuries he sustained during last year's Japanese Grand Prix. The Briton spent nearly two seasons with Bianchi, as the pair made their F1 debut together at Melbourne in 2013 and raced alongside each other until the 25-year-old's crash at Suzuka last October.
"I'm throwing that one to Jules," said Chilton after setting the fastest time in Iowa. "It wasn't easy and I'm sure if Jules was out there he would have been on pole.
"I tried my best, but Jules was one of those drivers who was destined for big things.
"I was his team-mate for two years, and I had to have an absolutely perfect day to beat him - more often than not, he'd beat me.
"I learned a lot from him, and even though he never raced on ovals I'm sure that I took a lot of what I learned from him out there today.
"I dedicate this one to him."
Chilton then managed to convert his pole position into his first ever Indy Lights win, an achievement he also associated with Bianchi.
"It's been a difficult nine months, to be brutally honest with you.
"I've learned a lot from him, and he was part of that win. I probably thought of him every five or 10 laps, because he was a driver destined to probably be a world champion.
"I'm dedicating this to Jules. He'd have driven the perfect race, as always."
Chilton's final start in F1 came at the 2014 Russian Grand Prix, where Marussia entered only one car in tribute to Bianchi. The squad then missed the last three races of the season as it entered administration.
The 24-year-old racer thus opted for a dual programme in 2015 and combines his Indy Lights commitments with a Nissan works drive in LMP1.
Meanwhile, Marussia managed to secure an 11th-hour deal to enter this year's F1 season as Manor, mostly thanks to the two points Bianchi picked up at Monaco last year.
F1 drivers pay tribute to Bianchi after death at 25
Keep up to date with all the F1 news via Facebook and Twitter