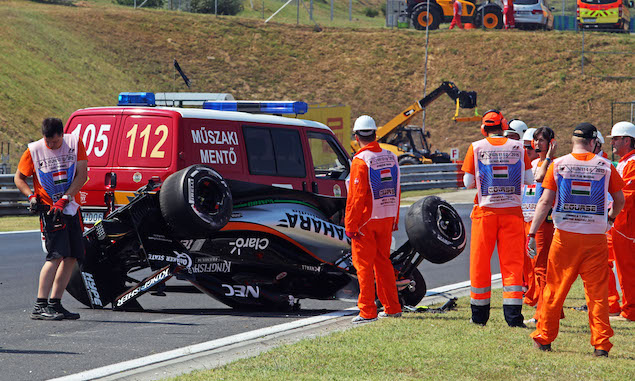 Force India will not run either car in FP2 for the Hungarian Grand Prix after a component failure on Sergio Perez's car on Friday morning.
Perez suffered a failure on the right rear corner of his car exiting Turn 11, causing him to lose control and hit the barrier. The damage sustained against the barrier led to the front right wheel folding under the car and flipping Perez, with the Force India coming to rest upside down.
While Perez was uninjured in the accident and soon returned to the pits, Force India has so far failed to find a cause for the initial failure. As a result it will not run either car in FP2 while investigations continue.
Perez had been set to sit out the session anyway as the damage was likely to prove too big to repair in time for second practice, but team-mate Nico Hulkenberg will now also miss out on track time.
"Sahara Force India will not take part in this afternoon's second practice session at the Hungaroring as the team continues to investigate a suspension problem, which caused Sergio Perez to crash this morning," Force India said in a statement. "Sergio's car suffered significant damage to the bodywork, wings and floor, and repairs are ongoing.
"As a precaution, the team has chosen not to run Nico Hulkenberg this afternoon. The team will work hard to fully understand the cause of the failure and find a resolution in order to be ready for Saturday's free practice session."
REPORT: Hamilton tops FP1 disrupted by big Perez crash
Click here for Eric Silbermann's Hungarian Grumpy Preview
Click here for a gallery of Sergio Perez's crash in FP1 at the Hungarian Grand Prix
Keep up to date with all the F1 news via Facebook and Twitter