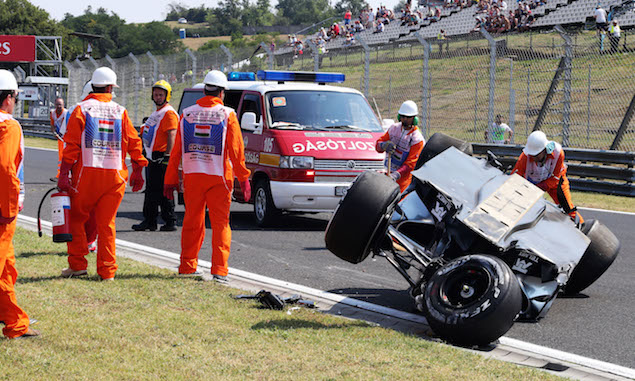 Sergio Perez has walked away from a big accident during first practice for the Hungarian Grand Prix.
Exiting Turn 11, Perez was running wide on the kerb when the right rear corner of the car suffered some form of failure. The problem pitched Perez sideways, sliding in to the barrier at high speed. The front of the car was damaged against the barrier, with the front right tyre then folding under the car and causing it to roll.
Perez came to rest upside down with the car heavily damaged, but was able to climb out unaided as the session was red flagged. Following a brief visit to the medical centre, Perez was soon back in the Force India garage and waved to the crowd in the main grandstand as he walked back.
The opening practice session was delayed for 16 minutes while the barrier was repaired and Perez's car was returned to Force India for further investigations and repairs.
Click here for Eric Silbermann's Hungarian Grumpy Preview
Click here for Thursday's gallery from the Hungarian Grand Prix
Keep up to date with all the F1 news via Facebook and Twitter