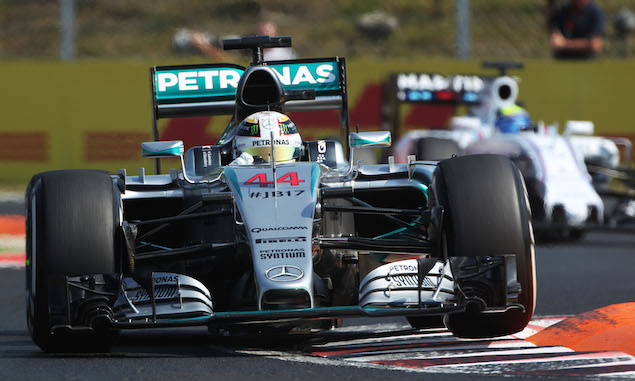 Lewis Hamilton was fastest in the opening practice session for the Hungarian Grand Prix but the session was halted due to a big crash for Sergio Perez.
Perez suffered a failure on the right rear corner of his car exiting Turn 11 and hit the barrier, with one of the front tyres then folding under the car and causing him to roll. With the Force India coming to rest upside down, Perez was fortunately able to climb out of the car unaided and was deemed unhurt after a brief visit to the medical centre.
The incident saw the session red flagged for more than 15 minutes as marshals fixed the barrier and recovered Perez's car, resulting in a busy end to FP1. Hamilton had been top at the time of the stoppage and retained the position on a 1:25.141, ending the session 0.109s clear of team-mate Nico Rosberg.
The session ended with a second red flag after Kimi Raikkonen's front wing failed exiting Turn 12. The Ferrari was accelerating out of the corner when the wing dropped and folded under the car, leaving debris on the track which . Raikkonen was able to return to the garage and finished third fastest, 0.671s slower than Hamilton.
Daniel Ricciardo was one of five drivers to return to the track in the final minute as the session restarted, ending the morning fourth quickest on a 1:26.053, just 0.027s quicker than team-mate Daniil Kvyat as Red Bull started the weekend in encouraging fashion.
Sebastian Vettel was sixth fastest for Ferrari, 1.2s off the pace during the disjointed session, with Carlos Sainz, Perez, Valtteri Bottas and Max Verstappen rounding out the top ten ahead of the two McLaren drivers.
It was a difficult morning for Lotus, with Pastor Maldonado completing only nine laps and Jolyon Palmer four. The team only received its tyre allocation in the final hour before FP1 after a payment issue with Pirelli, and Palmer was then only able to complete an installation lap before getting back out on track in the final minute of the session.
Fabio Leimer made his FP1 debut for Manor, finishing the opening 90 minutes almost a second adrift of Will Stevens, who was a similar distance behind Maldonado.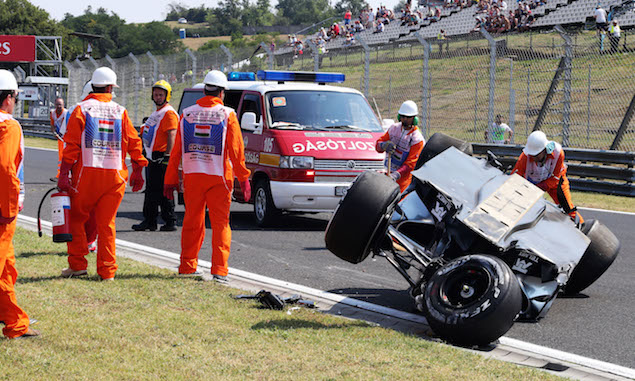 Click here for Eric Silbermann's Hungarian Grumpy Preview
Click here for Thursday's gallery from the Hungarian Grand Prix
Keep up to date with all the F1 news via Facebook and Twitter
| Pos | Driver | Team | Time | Laps |
| --- | --- | --- | --- | --- |
| 01 | Lewis Hamilton | Mercedes | 1:25.141 | 18 |
| 02 | Nico Rosberg | Mercedes | 1:25.250 | 23 |
| 03 | Kimi Raikkonen | Ferrari | 1:25.812 | 23 |
| 04 | Daniel Ricciardo | Red Bull | 1:26.053 | 19 |
| 05 | Daniil Kvyat | Red Bull | 1:26.070 | 17 |
| 06 | Sebastian Vettel | Ferrari | 1:26.395 | 14 |
| 07 | Carlos Sainz | Toro Rosso | 1:26.727 | 25 |
| 08 | Sergio Perez | Force India | 1:26.776 | 14 |
| 09 | Valtteri Bottas | Williams | 1:26.825 | 18 |
| 10 | Max Verstappen | Toro Rosso | 1:26.934 | 27 |
| 11 | Fernando Alonso | McLaren | 1:27.272 | 16 |
| 12 | Jenson Button | McLaren | 1:27.308 | 17 |
| 13 | Nico Hulkenberg | Force India | 1:27.317 | 11 |
| 14 | Felipe Massa | Williams | 1:27.381 | 18 |
| 15 | Felipe Nasr | Sauber | 1:27.409 | 24 |
| 16 | Marcus Ericsson | Sauber | 1:27.732 | 23 |
| 17 | Pastor Maldonado | Lotus | 1:28.568 | 8 |
| 18 | Will Stevens | Manor | 1:29.693 | 17 |
| 19 | Fabio Leimer | Manor | 1:30.631 | 18 |
| 20 | Jolyon Palmer | Lotus | | 3 |