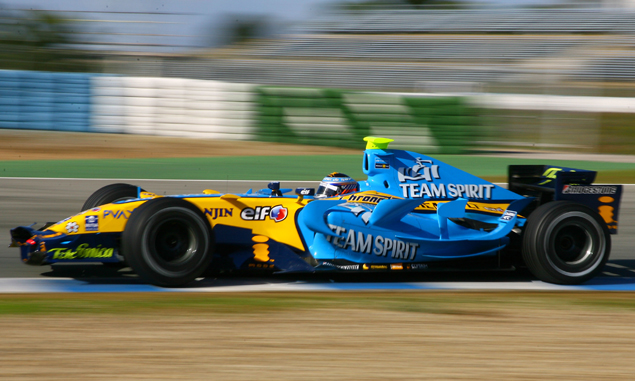 Renault Sport F1 managing director Cyril Abiteboul says he is "a big believer in a young driver programme", as the French manufacturer closes in on returning as a works team.
When Renault bought out Benetton in 2002, it simultaneously set up a detection scheme, the Renault Driver Development programme, which propelled the likes of Fernando Alonso, Heikki Kovalainen, and Romain Grosjean to F1.
While Abiteboul is adamant Renault can reap benefits from nurturing young talents, the ex-Caterham team principal insists its protégés must remain linked to the constructor once they have reached the pinnacle of motor racing.
"What is for sure, if we have to be in F1, is I am a big fan of driver programmes," Abiteboul told Motorsport.com. "We had that in the past, but maybe it was a bit too ambitious because we had a lot of drivers.
"We got more return being identified as the one who identified [Fernando] Alonso, than the first one who allowed Lewis Hamilton to get behind the wheel of a single seater [in Formula Renault].
"If you were to question everyone in the paddock, even those who know very well Lewis' career, Fernando is definitely connected to Renault. Lewis has never been connected to Renault.
"So we need to build on that, and that is why I am a big believer in a young driver programme."
Although Renault and partner Red Bull are headed for divorce, Abiteboul praises the energy drinks giant for the success of their own driver scheme and claims this can help keep salary costs in checks.
"You only need to see the driver wages for a team like Mercedes versus the driver costs for a team like Red Bull or Toro Rosso.
"I think that Red Bull or Toro Rosso wages are just a fraction of those of Mercedes and that is fantastic.
"So that tells us a lesson about what we should do and how we can improve what we are doing."
Last weekend's Hungarian Grand Prix brought further evidence of Red Bull's knack for unearthing young talents: the top four drivers – Sebastian Vettel, Daniil Kvyat, Daniel Ricciardo, and Max Verstappen – have been or still are part of the Austrian stable.
Eric Boullier exclusive interview: Steadying the McLaren-Honda ship
Click here for a lighter look at some scenes from the Hungarian Grand Prix
Keep up to date with all the F1 news via Facebook and Twitter