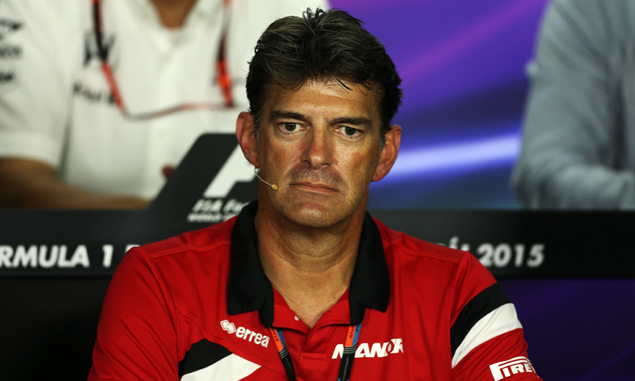 Manor sporting director Graeme Lowdon says the ex-Marussia team already has its "eyes fixed on 2016" after overcoming tremendous hurdles over the first half of the current campaign.
Following a last-minute exit from administration, the British squad was given the green light to compete in this year's championship only a couple of weeks before Australia's season opener.
Manor managed to make it to Melbourne with 2014-spec machines only for both Will Stevens and Roberto Merhi to remain confined to their garages all weekend long because of teething problems. Since then, the F1 minnows have steadily improved and introduced a first update to the MR03B ahead of their home race at Silverstone.
While Lowdon is keen to see Manor make further headway over the second part of the season, he admits next year remains the true target.
"I think we're getting more established now," he said. "The team's getting more up to strength in terms of personnel, we're getting the premises, the new factory sorted out, so everything's moving in the right direction.
"I think once everyone draws breath after having a rest during the summer break, we'll push as hard as we can in the second half of this season but really have our eyes fixed on 2016."
On top of its lofty sporting challenges, Manor has had to cope with the passing of former protégé Jules Bianchi. While Lowdon told F1i that the mid-season break was coming at the right time, the 50-year-old is proud of what his team has achieved since missing the final three races of the 2014 season.
"We've had the strangest set of challenges that you can imagine, but I think what underlies everything is that we have got respect for this championship.
"We were ninth in the Formula One World Constructors' Championship last year, in no small part due to Jules' drive in Monaco, so we have a rightful place to be here but we have not had the benefit of being able to plan how we would correctly like to plan for the 2015 season.
"We think we're making the optimum decisions going forward."
Click here for F1i's exclusive interview with Sergio Perez
Click here for a lighter look at some scenes from the Hungarian Grand Prix
Keep up to date with all the F1 news via Facebook and Twitter