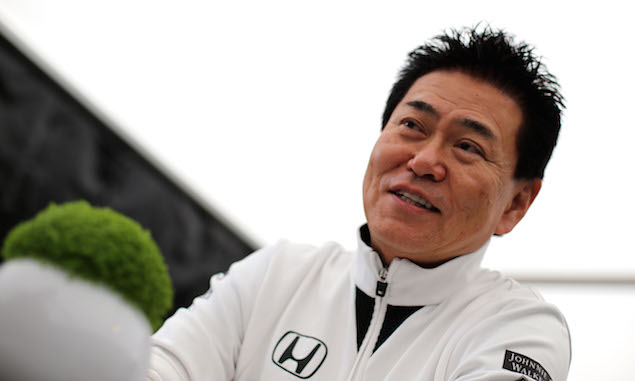 Honda's Chief Officer of Motorsport Yasuhisa Arai admits that the company's return to Formula One has proved tougher than he ever imagined.
"It has been a really tough start to our Formula One return," conceded Arai. "I certainly didn't imagine technology wise what we would be facing.
"We knew it wouldn't be easy, but perhaps we didn't imagine that it would be this hard.
"We have had a lot of issues to contend with, not only during the first few race weekends, but also during pre-season testing," he added. "Thankfully most of those issues have now been overcome and we can start concentrating on moving forward.
"We are definitely feeling more positive about the second half of the season."
There certainly did seem to be a glimmer of light at the tunnel at the Hungarian Grand Prix in which both Honda-powered McLarens not only finished the race but also scored points as well, Fernando Alonso in fifth place and Jenson Button in ninth.
"Hungaroring was a small turning point for us from a technical point of view, Arai explained. "Our engineers worked very hard to maximise the power out of the hardware we had at the track, through energy mapping and deployment suited to the track and the driving characteristics of the two drivers.
"The Hungaroring is a busy circuit for the power unit, with undulations that require constant power adjustment at every corner and it is not as easy to do as it sounds. However, going into the second half of the season, knowing that we are progressing is reassuring."
Arai also spoke about how the first year back in the sport was always going to be tough for Honda and that continual unfavourable comparisons to the companies golden age in the sport hadn't helped.
"Expectations were always going to be high because of our illustrious history with McLaren. Most of the fans have a great image of McLaren-Honda's heritage so they expected us to return to Formula One and be competitive immediately.
"Obviously this has not been the case. The sport has changed immensely since the McLaren-Honda 'glory days'. The current technology is much more sophisticated and it is tough to make a good racing car.
"We needed to create something radical in order to beat the top teams, and that is our ultimate goal – to beat the best.
"I have complete confidence in the direction we have taken with our power unit," he insisted. "We believe that our compact power unit layout will prove to be very competitive.
"However we knew from the start that it would cause problems with heat rejection. We now know which area is affected, and in the second half of the season we will apply new parts to resolve the issue and apply more horsepower to improve our competitiveness."
Honda to bring major engine update for Spa
Steadying the McLaren-Honda ship
Click here for our exclusive interview with Force India's Sergio Perez
Keep up to date with all the F1 news via Facebook and Twitter