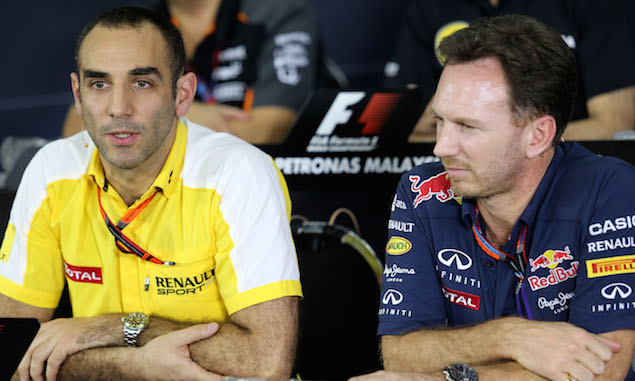 Renault Sport F1 managing director Cyril Abiteboul says a lack of integration with Red Bull Racing is partly to blame for current woes.
The rocky state of relations between Red Bull and its engine provider has been one of the headlines of the 2015 season, and the situation doesn't appear to be improving heading into the second half of the year.
Reliability issues with the new power unit have been foremost among the complaints the team has had, but Renault has hit back and said that one of the underlying reasons for strained relations and poor performance is that the squad isn't living up to its end of an arrangement to work as a de facto works team.
"It's one thing to state that Red Bull is our team and a works team of Renault, but it's another to make it happen," Abiteboul told ESPN.
"They expressed a desire, but for some reason - and maybe the reasons are not completely on their side - we have not managed to move from the uniform statements to acts."
Abiteboul explained that not being a single operation means that unlike teams like Mercedes and Ferrari, Renault and Red Bull lack an integrated budget with which they can plan ahead with and properly apportion between chassis, engine and driver development.
"When there is an arms race in engine technology and the return on money spent is higher on the engine than it is going to be on a front wing then you have to review the whole economic view," he added, calling it "a no brainer."
But Abiteboul said that he didn't want to play the blame game and admitted that Renault were also not where they wanted to be in terms of engine performance and reliability so far in 2015.
The frustrations voiced by Abiteboul point to why there has been so much speculation in Formula One that Renault is looking to re-enter team ownership in the coming months, having become frustrated with the limitations of the role of engine provider.
Reports earlier in the year linked Renault to a buy-out or rebadging of Red Bull's sister team Toro Rosso, but STR team principal Franz Tost admitted this week that talks between the companies had gone cold in recent weeks and that he felt Renault were looking to buy a stake elsewhere.
Current favourite for Renault's attentions is thought to be Lotus, the team that they owned until 2010.
However, Abiteboul insisted that splitting from Red Bull after their historic run of shared success would be a "huge wasted opportunity," although he admitted that it might nonetheless be necessary if Renault are to salvage their recently battered reputation and get their brand in the sport back to its former glories.
Red Bull may be mulling shock split with Renault
Renault no longer looking at buying Toro Rosso - Tost
Click here for our exclusive interview with Force India's Sergio Perez
Keep up to date with all the F1 news via Facebook and Twitter