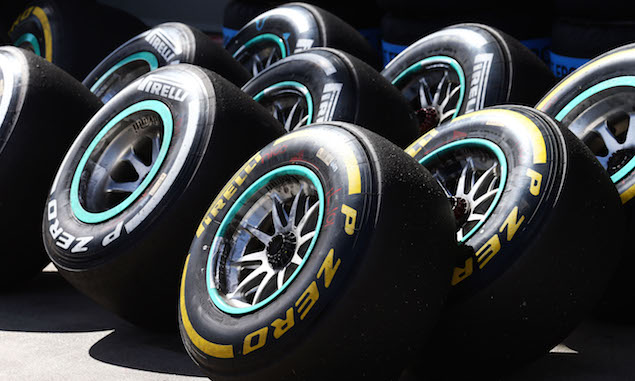 Franz Tost and Graeme Lowdon believe it's important that the best financial terms should decide whether Pirelli or Michelin win the contract to supply Formula One tyres from 2017.
Current incumbent Pirelli is currently competing against Michelin for a new contract, with their current exclusive deal with the FIA set to expire at the end of 2016.
Red Bull Racing team principal Christian Horner said in Hungary that he backed Pirelli to continue in the role and that he didn't see any advantage in switching to Michelin, which has proposed a move to 18-inch tyres despite F1 teams having already agreed on the continuation of the current 13-inch spec.
"Hopefully Pirelli will be successful with that," Horner said. "I think Pirelli have done a good job since they've been involved in the sport, they've been supportive of Formula One through hard times as well as the good times."
Franz Tost, the boss of sister team Toro Rosso, agreed with Horner's praise of Pirelli but at the same time insisted that they shouldn't get to keep the contract for 2017 at any price if it left Formula One teams out of pocket.
"I must say that Pirelli is doing a really good job, because in the past we didn't have any problems with the tyres," said Tost.
"Nevertheless, from the commercial side, the more money you get from a tyre manufacturer the better it is for the teams."
"I agree with Franz," contributed Manor F1 sporting director Graeme Lowdon. "I think the commercial offering is extremely important.
"If we end up with a new tyre deal that requires the teams to go and find more money, then we'll be chasing more money again. It's the old saying: turnover is vanity and profit is sanity.
"There needs to be a whole lot of sanity and I think a way to reach that is to ensure that we have the right commercial package in place."
Toto Wolff on the other hand gave a somewhat more non-committal view of the situation and stressed that regardless of the outcome of the current competitive tender process, everyone still needed to maintain a strong working relationship with Pirelli for the remainder of 2015 and all of 2016.
"You need to honour your current partner," said the Mercedes team principal. "We are heading into another year with Pirelli: whatever happens afterwards, we need to concentrate on that partnership.
"We've been going through various phases with Pirelli and they have a pretty difficult task to fulfil what's in vogue. [We need] a tyre as good as we can in a mutual partnership and collaboration for 2016 and have the best possible product for the best possible show."
"What happens beyond that is out of our hands because it's between the FIA and the commercial rights holder to tender and to decide. Commercial terms are going to play a role and therefore I would rather keep concentrated on my current 'wife.'"
The decision who gets the contract from 2017 will ultimately be made by Bernie Ecclestone.
Horner backs Pirelli over Michelin
Ecclestone to decide between Pirelli and Michelin
Michelin enters F1 tyre tender for 2017
Click here for our exclusive interview with Force India's Sergio Perez
Keep up to date with all the F1 news via Facebook and Twitter