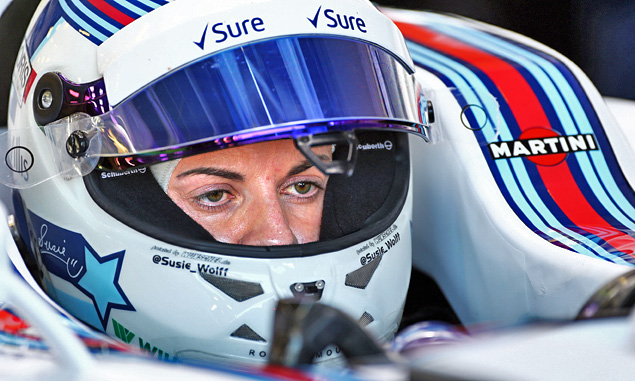 Williams F1 test and development driver Susie Wolff says that she has no qualms about using her gender to gain an advantage in Formula One.
"I make no apology for having used gender as a unique selling point in my career," she told The Scotsman newspaper. "I'm a woman, I drive racing cars and if there's an advantage in terms of finding sponsorship or support, then I will make the most of it."
Wolff made her comments just days after former WRC driver Michele Mouton, now the president of the FIA's women in motor sport commission, had appeared to be critical of Lotus F1's Carmen Jorda, another development driver in the Formula One paddock.
"I have nothing against Carmen, and I wish her well," Mouton had said. "But if you ask me who should be in Formula One, I think there are people with better results than her."
By contrast, Wolff had been one of the female drivers that Mouton had particularly praised as fully earning her place at the top level of motorsport, having been involved in racing since she was eight years old.
However Wolff herself insisted that there was nothing wrong in using whatever advantages were available to a driver in such a cut-throat business in the battle to get a top-level race seat, including gender and looks.
"That's what racing is all about: finding competitive advantage and exploiting it," she pointed out.
"When I look at the steps I have taken in my career, they have been all about getting a foot in the door and grasping that opportunity.
"When I began racing, I wasn't comfortable with the idea of being a role model, because I still had everything to prove as a driver," she added. "Now, I am right on the cusp of breaking onto that starting grid.
"If I can't be the woman to break through the glass ceiling, then I want to be involved in making it happen for the person who does."
While conceding that women have 30 per cent less muscle mass than men, she said that she was "100 per cent convinced that there is no physical impediment to women racing in Formula One" and that her work in pre-season testing at Barcelona earlier this year which included full-distance race simulations proved that it could be done.
"Female participation in Formula One is changing mindsets in a positive way. The more little girls and young women start racing, the more opportunities they will have at the top level."
Lella Lombardi was the last woman to start a Grand Prix with Brabham in 1976. Fellow Italian Giovanna Amati also made a bid to race for the same team in 1992 but failed to qualify for the first three consecutive races of the season at South Africa, Mexico and Brazil.
Amati was subsequently replaced by newcomer Damon Hill. The future Formula One world champion had no better luck himself in attempting to make it onto the grid for his first five outings with Brabham that year, either.
Click here for F1i's mid-term report on how the Formula One teams have fared so far in 2015
Keep up to date with all the F1 news via Facebook and Twitter