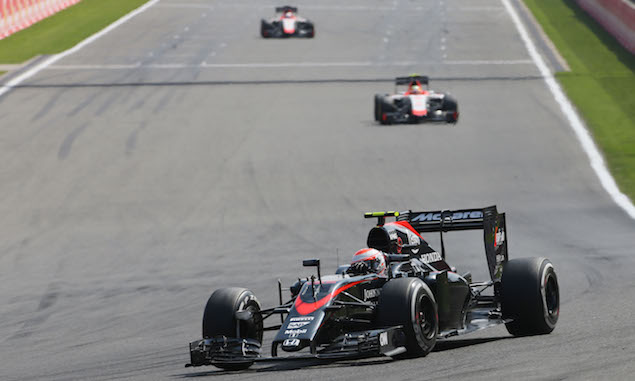 Jenson Button says the Italian Grand Prix "will prove very challenging" for McLaren after its problems in Belgium.
While the high speed circuits at Spa-Francorchamps and Monza were never likely to play to McLaren's strengths, a Honda power unit update had raised hopes of a more competitive showing that was possible in Belgium. Button was hampered by a deployment problem and finished 14th - one place behind team-mate Fernando Alonso - and he is expecting another uncompetitive weekend.
"Spa was a very tough race for the team, and especially so on my side of the garage due to the deployment issues I had on the straights," Button said. "We're working hard on this and we're optimistic that there won't be a repeat in Monza, as it really hindered any chance I had of keeping up with the rest of the pack. That said, Monza's high speeds will prove very challenging for us, but we'll give it our all and stay focussed as ever.
"The key for us will be getting the maximum from the car on Saturday, to give ourselves a fighting chance of a good battle on Sunday afternoon. Despite the issues, the car was well balanced in Spa and felt good to drive, particularly in qualifying, so we'll aim to make the most of that in Monza, too, before we head to the fly-aways where there'll be circuits that'll suit our car's strengths much better."
However, Button is hopeful of still being able to enjoy the race weekend at Monza, calling it a unique circuit to race on.
"Monza is such a great place, definitely one of the most incredible races on the calendar for a driver, and always such a thrill to race on. It's completely unique in terms of the setup it demands, and I love the feeling you get when you hit the sweet spot in the corners – keeping the car controlled under heavy braking on the way in is tricky, and then on the way out it becomes very unsettled as you're trying to get the power down, so it's a great test of nerve."
McLaren surprised by rate of recovery - Magnussen
F1 drivers' girlfriends gallery
Keep up to date with all the F1 news via Facebook and Twitter