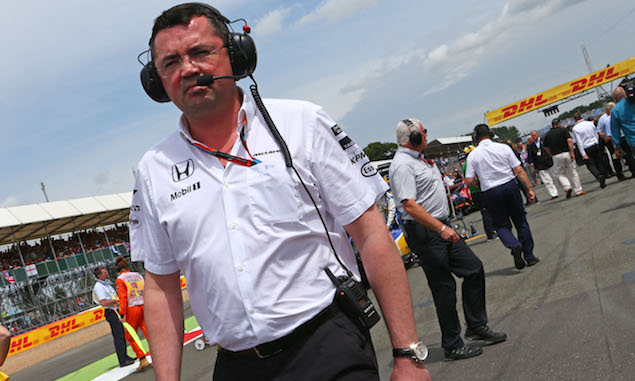 McLaren racing director Eric Boullier says his team can use the Italian Grand Prix to learn for tracks where it has a realistic chance of being competitive.
Having been disappointed by the lack of improved performance from the Honda power unit at Spa-Francorchamps, McLaren heads to Monza expecting another difficult race. However, Boullier says the following round in Singapore offers a much stronger chance of a good result and has urged McLaren to use this coming weekend to put it in a position to capitalise during the fly-aways.
"As we move our thoughts to Monza, the race which marks the end of the European leg of the season, it's often a good opportunity to look further ahead to the end of the season and the final fly-away races of the year," Boullier said. "It's certainly been a tough year for McLaren-Honda so far, but we're continuing to fight with our heads held high.
"Spa was a particularly unflattering race for our package, which disappointingly masked many signs of progress we were hoping to see after the summer break. However, we always knew Spa would be one of, if not the, most challenging grand prix of the season, and we were certainly proved right. On the other hand, we also took some positives from the weekend and we're working hard to ensure we achieve the same consistent tyre performance and improved car balance that we saw in Spa-Francorchamps.
"In terms of Monza's characteristics, it's another high-speed, low downforce track, and a unique challenge, with long straights and heavy braking. For this reason, we expect this race will be difficult for us in similar ways to Spa, but our aim is to finish the race with both cars and learn as much as we can from the weekend in anticipation of Singapore and beyond, where we're hopeful of demonstrating improved pace."
2016 F1 driver line-ups so far
F1 drivers' girlfriends gallery
Keep up to date with all the F1 news via Facebook and Twitter