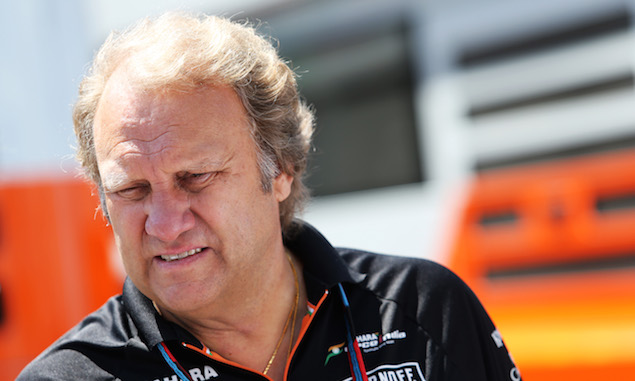 Force India deputy team principal Bob Fernley has explained why the team voted against allowing Marussia to race in 2015 using last year's car.
A meeting of the Strategy Group - featuring the top six teams from last year's constructors' championship, Bernie Ecclestone and FIA president Jean Todt - in Paris on Thursday saw Marussia denied the opportunity to race under the name of Manor Grand Prix using its 2014 car should it make it on to the grid this season.
Force India rejected the proposal and with unanimous agreement from the teams required it ended the process immediately. Following a negative reaction from fans, Fernley says there was not enough detail to convince the teams that Marussia had a long-term plan of action.
"Marussia have an obligation to put in a proposal to the F1 Commission and F1 Strategy Groups to be able to demonstrate that they can deliver a programme for 2015," Fernley told Sky Sports. "They're asking for dispensation in terms of running a 2014 car prior to switching over a 2015 car and in that should be all the details of what is going on.
"The reality is that absolutely no documentation was provided whatsoever. Even the process that was used in terms of the letter that was sent in was not compliant. It should be sent by the administrators and it was sent by one of the former directors of Marussia.
"So, while it's a very emotional subject, it also has to go through compliance and due diligence and it couldn't go through either of those. It just happened to be that Force India was the first team to vote and once one team has voted against, it's no longer viable."
Fernley later encouraged Marussia to attempt to present a more detailed case at a later date, admitting he wasn't happy to be hurting the chances of another team surviving.
"If I thought it was my last throw of the dice I would have done a presentation with all the bells and whistles, and everything else I could possibly think of, to convince everybody," he told the Press Association.
"Do I feel bad? Yes, I do, really bad, because Force India has fought like hell for all the smaller teams."
Marussia is set to exit administration on February 19.
Keep up to date with all the F1 news via Facebook and Twitter