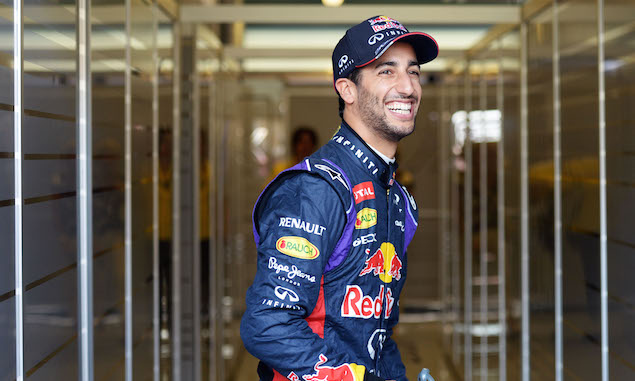 Daniel Ricciardo has set the fastest ever time as Top Gear's 'Star in a Reasonably Priced Car'.
The BBC show puts celebrities in everyday cars, with F1 drivers making occasional appearances in a Suzuki Liana to set a time against each other in the same car. Each driver gets a number of attempts at completing a lap of the Top Gear test track, with the fastest time being recorded.
Lewis Hamilton previously held the record with a 1:42.9s lap time, 0.2s quicker than Mark Webber and a huge 1.1s clear of Sebastian Vettel. Ricciardo, however, went fastest overall with a 1:42.2s - a time presenter Jeremy Clarkson described as "staggering" - setting the same time on two other occasions.
"This is how I felt after Canada, I didn't know what to say!" Ricciardo said.
Top Gear F1 driver lap times:
Daniel Ricciardo - 1:42.2
Lewis Hamilton - 1:42.9
Mark Webber - 1:43.1
Sebastian Vettel - 1:44.0
Rubens Barrichello - 1:44.3
The Stig - 1:44.4
Nigel Mansell - 1:44.6
Jenson Button - 1:44.7
Jenson Button - 1:44.9 (w)
Kimi Raikkonen - 1:46.1 (w)
Damon Hill - 1:46.3
Mark Webber - 1:47.1 (w)
(w) denotes wet lap time
Keep up to date with all the F1 news via Facebook and Twitter