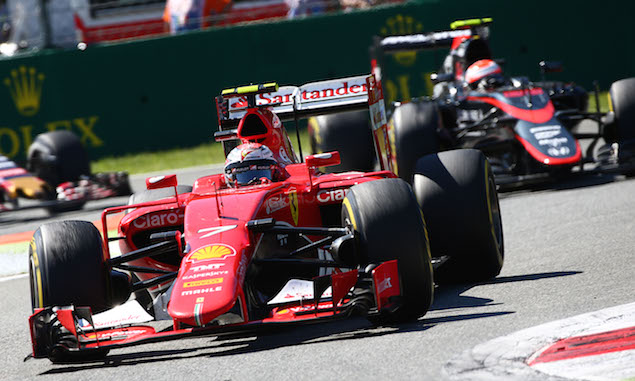 Kimi Raikkonen says there is no need for him to make any changes to his start procedure despite his problem at the Italian Grand Prix.
Starting from second place, Raikkonen failed to get off the line for a number of seconds and was last before he even reached the first corner. With the poor start proving so costly, Raikkonen says he doesn't need to make any changes to prevent a repeat in future.
"It's not like we need to do something differently, it's a small problem with a big end result from it," Raikkonen said. "We have been doing the same thing for a long time and it just happened to go wrong this time. It's not like the new rules changed anything, it could have happened last year or earlier this year."
And Raikkonen says Ferrari has worked out what caused his poor start, hinting it was a case of driver error.
"It was still on the anti-stall and the reason why, for sure I did it all correct apart from my finger might have been for whatever reason holding the second paddle in a bit of the wrong position for no apparent reason.
"The end result is the same and obviously we have to learn from those. It's a shame and a bit disappointing but after 200 metres we were last and it wasn't too bad after that. When you start from second place it was not the ideal start, but it happens."
Chris Medland's Singapore Grand Prix preview
2016 F1 driver line-ups so far
Click here for some of the most memorable crashes at Singapore
Keep up to date with all the F1 news via Facebook and Twitter