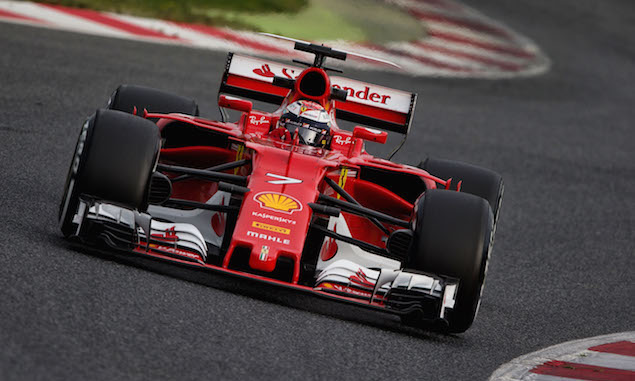 Ferrari's Kimi Raikkonen posted on Friday morning the fastest time seen so far in this year's Formula 1 pre-season testing in Barcelona, while Haas's Romain Grosjean and McLaren-Honda's Fernando Alonso caused two red flag periods apiece
The Finn logged a 1:18.634 flyer on the supersoft tyre to lead Red Bull's Max Verstappen by over eight tenths. The 2007 world champion is the first driver to lap around Circuit de Barcelona-Catalunya in less than 79 seconds.
After racking up the laps across the previous seven days of testing action, Valtteri Bottas and Mercedes had a rather slow start before picking up their pace and mileage to slot into fourth behind Toro Rosso' Carlos Sainz by the session's end.
Renault's Nico Hulkenberg and Williams's Lance Stroll both topped the timesheets at some point and eventually placed fifth and seventh with Force India's Sergio Perez sandwiched in between.
P8 Grosjean caused the first red flag when he spun his VF-17 into the gravel trap at Turn 5. The Frenchman was able to resume his run programme shortly after, though he triggered another interruption 15 minutes from the chequered flag.
Alonso caused two red flag periods of his own after his troublesome McLaren-Honda MCL32 stopped twice on track on Friday morning. With time running out for the British team and its Japanese engine partner, the double world champion had to settle for a mere 19 laps and languished at the bottom of the standings behind Sauber's Marcus Ericsson.
Testing will resume at 14:00, local time for the final afternoon session in this year's pre-season testing. There will be three changes in the line-up, with Lewis Hamilton, Jolyon Palmer, and Pascal Wehrlein taking over their respective team-mates at Mercedes, Renault, and Sauber.
GALLERY: F1 drivers' wives and girlfriends
Keep up to date with all the F1 news via Facebook and Twitter