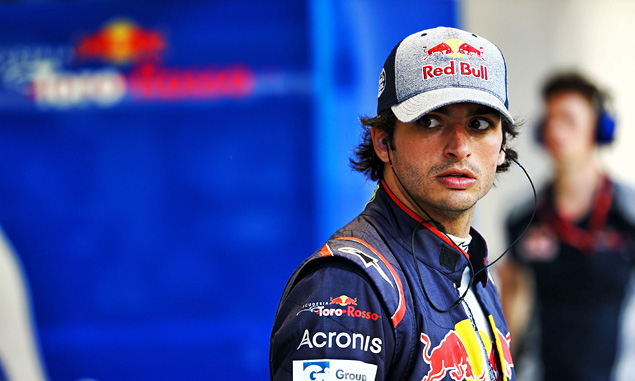 A frustrated Carlos Sainz has been rumoured to be looking to move away from Toro Rosso ongoing for several months, even though he's locked into a contract with Red Bull.
Sainz has taken part in 50 races with the team since making his début in the 2015 Australian Grand Prix. He's now been with the team for three years.
However the Spanish driver was unhappy to be passed over for promotion to the senior Red Bull team in 2016 in favour of Max Verstappen. He's recently spoken openly of pursuing driving options elsewhere, despite the team remaining adamant he will stay.
"Nothing has changed," Red Bull team principal Christian Horner told reporters this week. "Carlos Sainz has a contract with Red Bull Racing. There are two years left on that contract.
"We value him as an asset, and an asset has a value," he added. "We have taken him from Formula BMW to F1. You are not just going to give an asset away."
But Horner did admit that Red Bull might be willing to give Sainz up - provided that the right offer was made.
"If somebody was prepared to make an offer of course we would consider it," he said. "But it would have to have a significant value attached to it."
Rumours that Renault wanted to poach Sainz in time to replace Jolyon Palmer for the Hungarian Grand Prix have been strongly denied. Asked if any team had approached Red Bull over Sainz, Horner replied an emphatic "No!
"I don't know where these rumours come from," he added. "But I cannot believe that these rumours are out there for the Hungarian race."
But with no sign of an opening at Red Bull, and new drivers like 2016 GP2 champion Pierre Gasly knocking at the door of the team's junior development programme, it seems that something must surely give.
Daniel Ricciardo is currently contracted through to the end of 2018. The team has options on Verstappen taking his tenture there to the end of 2019, despite rumours linking him to Ferrari.
"They are totally locked in," insisted Horner. "There is no price that would be high enough for those two.
"2019 is a long way away," he added. "I am sure we will start to talk to Daniel a little bit closer to 2019."
Meanwhile, Sainz' team mate Daniil Kvyat - who was demoted in favour of Verstappen last year - looks set to stay at Toro Rosso in 2018.
"We have until December 31 to make our minds up for the future. But this year for him, when you look beneath the surface, a pretty decent year so far," said Horner.
"When you look actually at the performances that he's had in detail, he's actually driven pretty well."
GALLERY: F1 drivers' wives and girlfriends
Keep up to date with all the F1 news via Facebook and Twitter