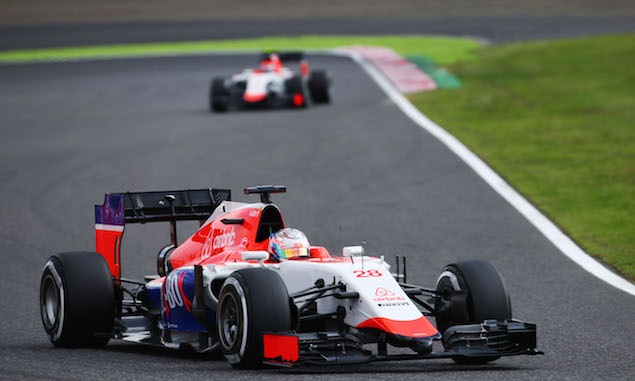 Manor will use Mercedes power units from 2016 after a signing a "multi-year supply agreement" to switch from Ferrari.
Having only exited administration at the start of this season, Manor has been running 2014-specification Ferrari power units this year as well as an adapted 2014 chassis. However, the team will switch to Mercedes next season and will use up-to-date engines as part of the agreement.
Manor team principal John Booth says the move to Mercedes power will help the team become much more competitive next season.
"I am delighted to announce our new Power Unit partnership with Mercedes-Benz for the 2016 season and beyond," Booth said. "Although there were many factors governing our selection of an engine partner to help power us towards our long-term ambitions, ultimately the strength of the Mercedes-Benz package speaks for itself.
"2015 has been a rebuilding year in every aspect of our operation. Although we have not been able to make the incremental strides in competitiveness that the team has enjoyed in previous seasons, we have put in place a strong foundation from which to progress. Together with the potential we are seeing with our 2016 car in the wind tunnel, the Mercedes-Benz Power Unit will assist our return to aggressive performance development with effect from next season."
And Booth had words of praise for former supplier Ferrari, as well as confirming the continuation of a partnership with Williams for 2016.
"I would like to take this opportunity to thank Scuderia Ferrari for their support for our team over the past two seasons. In 2014, together we shared in the momentous occasion of the team's first points and in 2015 Ferrari supported us to a degree that was above and beyond the requirements of our partnership agreement. Quite simply, we could not have returned to the grid without them pushing extremely hard to support the MR03B, at the same time as focusing on their own 2015 package.
"I am also pleased to announce that we will resume our prior technical partnership with Williams Advanced Engineering, from whom we will receive the supply of transmission and suspension components. Combined with Mercedes-Benz Power Units, we are very excited about the strength of our new powertrain package and what it means for the long-term future of our team."
Manor has yet to score a point in 2016, with a best finish of 12th place at the British Grand Prix.
CONFIRMED: McLaren retains Button for 2016
Take a look at the technical updates from Singapore and Japan