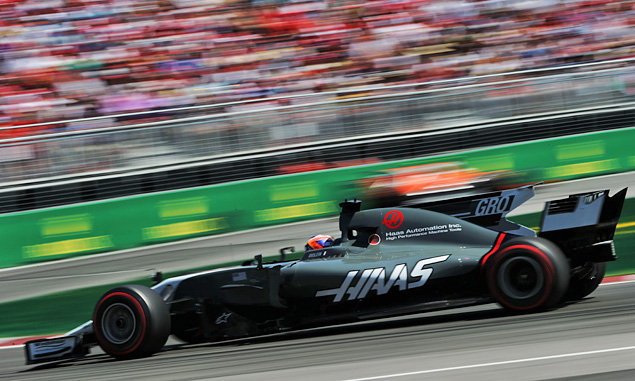 Haas F1 team principal Guenther Steiner says that last year's early decision to switch focus to 2017 development has helped them maintain momentum.
Steiner said that by doing so, Haas has avoided the second season slump suffered by many new teams in motorsport.
"Part of my job is to prepare not to get in a hole," Steiner explained to Motorsport.com. "You can always end up in a hole. But I had a terrible second season in one of my projects, and I learnt a lot out of it.
"It's pretty logical why it goes wrong, and having had it go wrong you do your best not to have it go wrong."
Haas enjoyed a strong start to its maiden season, scoring points in three of the first four races of 2016. It was up to fifth in the constructors standings, but thereafter found points hard to come by and slipped to eighth.
Steiner made the early call to divert technical resources away from that year's car in order to focus on the VF-17. The decision didn't go unnoticed in the paddock at the time.
"It was like, 'Why are you not bringing updates, haven't you got any money?'" he recalled. ""No, no. We didn't want to, because we'd just confuse ourselves.
"We'd confuse ourselves in '16, plus we'd fall behind in preparing ourselves for '17," he continued. "Everybody was aware last year that we needed to be careful not to drop the ball."
As a result, Haas has largely avoided the 'terrible twos' and is one point and one position better than it was in last summer's standings. However the improvement was also due to more general improvements at Haas.
"The team got better-organised," Steiner said. "Not that we were badly organised, but you cannot be perfect in the first year. The level is high here.
"People just naturally work better together," he continued. "We didn't have a lot turnover of people. I wouldn't say I'm surprised.
"They know each other, they know their strengths and weaknesses. They know who they can rely on, who they cannot.
"It's just natural that you should get better," he summed up.
As for this year, Steiner says that he expects the last significant upgrades to the VF-17 to arrive in time for Singapore.
"There is no point [after that] because we're working full-time on the '18 car," he explained.
However he didn't rule out Ferrari also delivering further updates to the car's power unit after the summer break.
Steiner also said that consistency in its driver line-up was a boost, with both Romain Grosjean and Kevin Magnussen set to stay on.

Gallery: The beautiful wives and girlfriends of F1
Keep up to date with all the F1 news via Facebook and Twitter