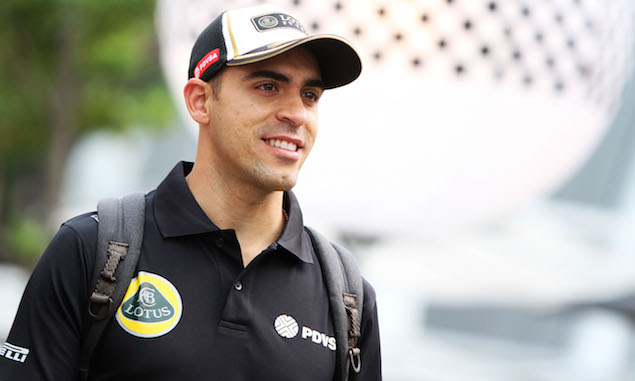 Pastor Maldonado is playing it cool coming into the Russian Grand Prix, and not getting his hopes up for a repeat success for the team to match Suzuka.
Maldonado finished in the points in eighth place in last week's Grand Prix as did his current Lotus F1 team mate Romain Grosjean, a marked improvement on the pointless outing at Singapore and the nightmare at Monza which saw both cars retire after first lap incidents.
But just because both cars finished in the points at Suzuka doesn't mean that Maldonado is getting carried away with his hopes for Sochi.
"You always approach a race on its own merits so my outlook heading to Russia is not affected by what happened in Japan," he insisted.
"It was positive for us to have a solid race and get some good points, of course, but that is what we try to achieve at every race, regardless of what happened at the one before.
"Equally, if we have a race like Suzuka for all of the remaining events it would be a strong end to the year.
Maldonado said that he was looking forward to returning to Sochi after being impressed by the inaugural event in 2014.
"It was a great and amazing event, really well organised and with a good attendance. It was a special experience to arrive at a new country for Formula One - and a new country for me – then see strong immediate support like we did.
"Last year we saw the grip level improve a lot over the course of the weekend as it was new which meant we really needed to work hard on the setup to maintain the balance and get the car working as well as it could.
"There are very many corners, with a couple of sections of stop and go. It's quite a long lap and a reasonably technical one too. If you make a small mistake in one corner, you are punished for the rest of the lap.
"If you're off line for one corner, it might not be until one of the straights that you can recover. Off-line is very slippery too so you're doubly punished! Every single part of this track is important!
"In terms of enjoyment, I like the first sector the most, but it's a good track overall.
"It will be much easier this year. Last year was all about discovery and learning; this year we should be several steps forward so be able to unlock more pace quicker."
Alex Lynn F1i exclusive: Staying grounded in pursuit of the dream
F1i technical expert Nicolas Carpentiers takes us through exclusive pictures of Renault's power unit
Who said that? Lauda. I SAID, WHO SAID THAT?
Keep up to date with all the F1 news via Facebook and Twitter