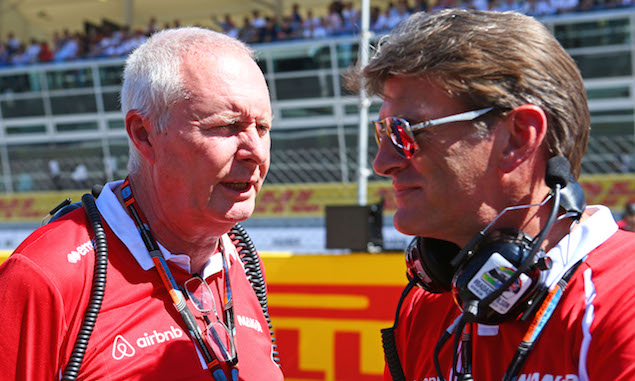 Manor team principal John Booth has warned the team it still faces a challenge to move off the back of the grid in 2016 despite switching to Mercedes power.
Ahead of the Russian Grand Prix it was announced Manor would use Mercedes power units next season having been running year-old Ferrari engines this year. Also announced was a partnership with Williams to take gearboxes and further components, giving Manor a strong platform for 2016 as it looks to break in to the midfield.
While optimistic for the future, Booth told F1i the new deals are no guarantee of success due to the size of Manor at present.
"I think even with the best engine out there it's still not an easy sport," Booth said. "We're still only 100 people and we're just about to our limit on wind tunnel but nowhere near our limit on CFD. So it's no good kidding ourselves that we've got all the answers. I think it's a case of see where we are and just keep building."
With no further updates being introcuded to this year's car, Booth is encouraged by progress being made on next year's design.
"The wind tunnel program is going really well back at base, so we're very excited. To put that together with the engine and gearbox deal is pretty exciting for next year.
"[The Mercedes deal] has been bubbling along for a while. I think the political stage in F1 is pretty unstable so it's hard to get people to commit, but it's been bubbling along for a while.
"It's very lucky that that start of the season has been put back, although it has been brought forward again now but not to where it normally is so we'll be fine. Monocoque production started last week."
And Booth says it is imperative Manor runs its new car at the first test of 2016 having had no pre-season running this year.
"With only two tests of course next year, it's very important. We've got new people to work with in Mercedes and Williams so we'll build those relationships and going to have to work together."