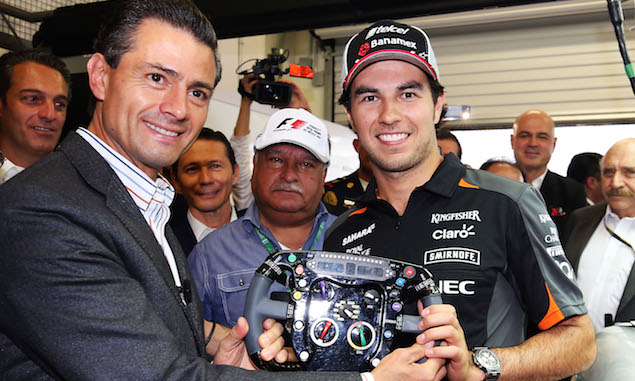 Sergio Perez says the Mexican Grand Prix will be the biggest day of his career to take part in his home race for the first time.
The last grand prix at the Autodromo Hermanos Rodriguez was held in 1992, with numerous attempts to return failing before finally being approved for this season. As the only Mexican driver in the sport at present, Perez says he is fully aware how important racing in front of his home crowd will be.
"It's definitely a big dream for me to be able to race in my home country," Perez said. "It's been more than 12 years since I raced in my country, so definitely it's going to be the biggest day of my career on Sunday, because to race in front of my whole people, all my country, it's something very special.
"You know how Mexicans are. So, it's going to be the most special day of my career, no matter what result I get on Sunday. I really hope that we can have a great result and cheer all the fans that are doing the effort to come. But definitely it's just going to be a dream come true on Sunday to race in front of my crowd."
And Perez insists he is not fazed by the attention and pressure on him, saying he will use it as an incentive to perform.
"In terms of Sunday, I think it's very positive pressure Obviously there is a lot of pressure but I take it as a very positive one, there will be a lot of energy, people really supporting me and what I have to do is what I do every weekend, it's focus on myself.
"Once I put the helmet on, it's time to focus on what I'm doing,  I have to do the normal procedure that I do throughout the races. There are a lot of things that we have to do before the race start, before qualifying and so on. Obviously there is a lot of pressure but a very positive type of pressure  and I see that it will give me a very good motivation to do well this Sunday."
Chris Medland's Mexican Grand Prix preview
Technical analysis: United States
Click here for the F1 drivers' girlfriends gallery
Keep up to date with all the F1 news via Facebook and Twitter