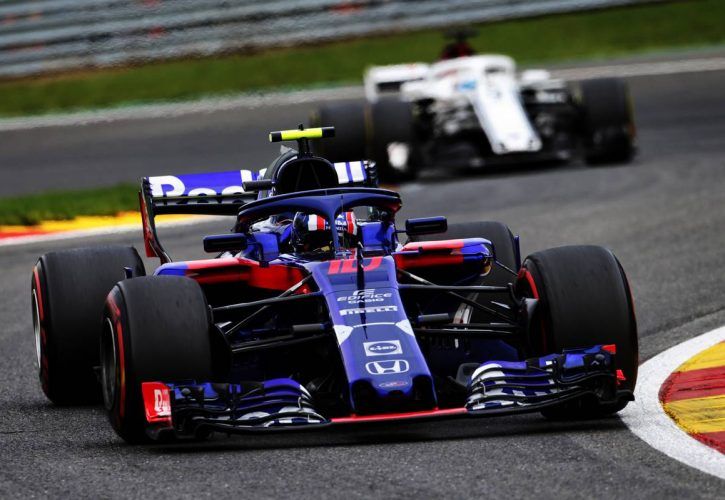 Pierre Gasly was a happy camper at the end of Sunday's Belgian Grand Prix, hailing Toro Rosso and Honda's performance at a power track where he feared the combo would endure a difficult day.
Gasly concluded his afternoon at Spa with a run to ninth, the Frenchman gaining a few spots at the start and then holding his own over the course of a rather uneventful 44-lap race.
"I'm really happy to score points today!" said Red Bull's freshly nominated 2019 driver.
"It was supposed to be a difficult weekend for us on a track like this, and to end up with two points is really positive.
The race itself was actually quite calm for me, I started in 10th position and overtook Daniel and Kimi on the inside of Turn 1 which put me in eighth.
"A few laps later Valtteri passed me but we knew there wasn't much we could do about that, so I just pushed as much as I could. In the end we finished in P9, so it's really satisfying."
Gasly underlined the performance of his Honda-powered STR13, insisting the result was another clear indication of the Japanese manufacturer's undeniable progress.
"I think everything is getting better, you know. The drivability, reliability, we don't have any issues," he said.
"We just need to get that extra performance to make us more consistent inside the top ten, but I think this weekend was really positive.
"I think next weekend will be a tough one but just looking at this weekend, it was good."
The fact that the Toro Rosso junior was able to keep Marcus Ericsson's Ferrari-powered Sauber at bay, on a power sensitive circuit such as Spa, was another fact that wasn't lost on Gasly.
"I was fighting with him [Ericsson] and I managed to keep him behind so I think definitely that the Honda is getting better.
"You know what drivers are like, the more power they give us, the happier we are. I know we will have a couple more upgrades coming before the end of the season, but Honda is pushing flat out.
"To score points on a track like this is positive for the team."
Gallery: The beautiful wives and girlfriends of F1 drivers
Keep up to date with all the F1 news via Facebook and Twitter