Williams' Rob Smedley, who will relinquish his role as head of performance engineering with the British outfit at the end of the season, could be preparing for a return to Ferrari in the future.
The 44-year-old engineer worked for almost a decade at the House of Maranello, the bulk of which was spent as Felipe Massa's race engineer.
Smedley then moved to Williams in 2014 - along with Massa - for a five-year stint that will conclude after Abu Dhabi.
The Brit expressed his desire to distance himself from Formula 1 and enjoy some time with his family before considering his future.
However, a call from the Prancing Horse and a return to its stable could be too good to resist for Smedley, who still has a home in Modena.
"I'm going on holiday there in January if that helps," he told La Gazetta dello Sport's Andrea Cremonesi.
"I would say at this moment in time I'm not closing off any options.
"I'm in a really fortunate lucky position that people want to talk to me so I'm talking and, as I said, there's absolutely no avenues closed off.
"What I actually need to do is to at some point, towards the start of next year, is to get all the options on the table and after having spent a little bit of time away from it and being able to look at things with a clearer head, slightly less fatigued, then I will make a decision.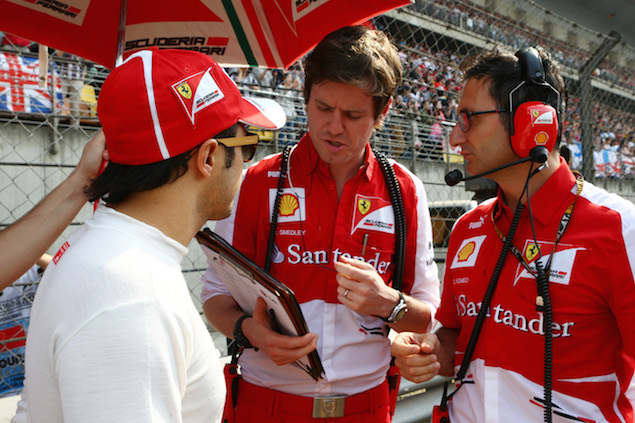 "Until that point I will see what the options are as they come in and go from there."
Regardless of what the future holds, Smedley knows that after almost twenty years of F1, he just has too many engines ringing in his ears to move permanently away from the sport.
"I definitely want to stay in Formula 1," he insisted.
"Formula 1 is my passion. It's been all my working life that I've been in Formula 1 and it's still the pinnacle of motorsport.
"There are other series that are snapping at its heels but it's still got a lot to offer. Formula 1, we're working on it all the time, it's not the complete package. It has so much more potential than what you actually see.
"So yeah, I do want to stay in Formula 1 on the technical side. I'm lucky, because I'm already talking to people and that's a fortunate position to be in and we'll just see where everything takes us."
Gallery: The beautiful wives and girlfriends of F1 drivers
Keep up to date with all the F1 news via Facebook and Twitter